3 Best Skins in Overwatch Summer Games 2020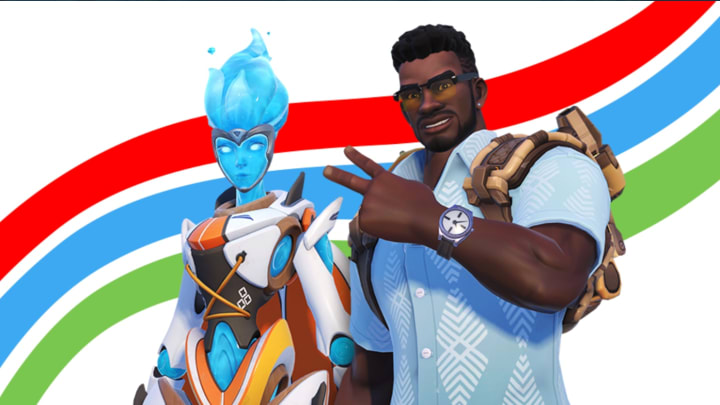 Overwatch Summer Games 2020 has arrived and has brought with it the return of Lucioball and a slew of new cosmetics, including eight new skins.
As with many recent events, three of the new skins will be tied weekly challenges. Each week, players will have the chance to earn a new skin by winning nine matches in any mode. The reward for Week 1 is Union Jack Tracer, Week 2 is Sand Castle Bastion and Week 3 is Ice Cream Orisa. The other five skins can be purchased or found in Summer Games Loot Boxes.
Here are our picks for three best skins in Overwatch Summer Games:
3. Ice Cream Orisa
Despite joining Overwatch just 10 months after the game's release, Orisa's Ice Cream skin is only her fifth event skin. Although she already has some great skins, this one is delightfully goofy. Her banner displays an ice cream cone, and her legs have a waffle cone design. To top it off, her forehead has a swirl of whip cream with a cherry on top. Ice Cream Orisa is a great choice for Orisa players looking for a more fun skin option.
2. Surf's Up Echo
Surf's Up is Echo's first event skin since her arrival in April. This skin has an awesome blue, white, and orange colorway which fits the season and really pops in the game. Of course, Echo's wings are surfboards and she also sports a spiky, watery hairdo. This skin is a nice addition for Echo players who have grown bored with her current options.
1. Tropical Baptiste
You might notice that Tropical Baptiste seems to be everywhere in Blizzard's promotion of Overwatch Summer Games 2020, and for good reason. There's just something awesome about showing out in a casual skin. The light blue button up and white shorts give Baptiste a breather from his usual bodysuits, and the sunglasses and wristwatch are nice accessories. His gun resembles a coconut tree with its wood design, coconut magazine, and leaf hanging from the tip of the barrel.
Overwatch Summer Games arrived Aug. 4 and runs until Aug. 25.