5 Best Bot Lane Duos in League of Legends Patch 12.11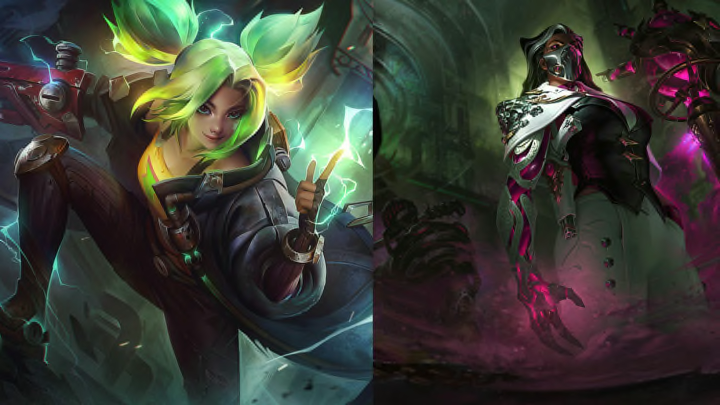 Zeri and Renata Glasc Official Splash Arts / Riot Games
Picking one of the best bot lane duos when playing League of Legends Patch 12.11 is a great way to get a one-up on your opponents.
League of Legends Patch 12.11 has seen dozens of changes to Champions, Items, and Systems alike. Thus, players may be having trouble adjusting to the new changes, and figuring out which Champions are currently working best with each other.
For players who want to dominate the rift, picking a strong ADC and Support that compliment each other is one of the most important aspects of winning your lane. Here are the top five bot lane duos that have the highest win rate currently in LoL Patch 12.11, according to U.GG.
5 Best Bot Lane Duos in League of Legends Patch 12.11
5.

Zeri & Renata Glasc
Zeri and Renata Glasc Official Splash Arts / Riot Games
With a win rate of 56.90%, Zeri as ADC synergizes perfectly with Renata as her Support. Renata's W grants an allied champion additional Attack Speed and Movement Speed, and her E can shield allies. Zeri's Passive grants her movement speed when shielded. Thus, using Renata's W and E on Zeri can turn her into a real threat on the battlefield, with a huge boost in both Movement Speed and Attack Speed, which can be utilized to grant easy, quick kills when paired with Zeri's W, which slows opponents.
4.

Tahm Kench & Senna
Tahm Kench and Senna Official Splash Arts / Riot Games
With a win rate of 57.01%, Tahm Kench as ADC with a Senna Support is considered an S+ tier duo right now. In previous patches, Senna as ADC with a Tahm Kench as Support has also been a popular pick amongst pro players. Senna's E camoflauges and grants Movement Speed to allies within it, making them undetectable. This combined with Tahm's W, which allows him to dive under the ground and reappear at an enemies' location, makes it nearly impossible to engage with Senna. Plus, Tahm's E combined with Senna's heal makes poking Tahm out also extremely difficult.
3.

Zeri & Janna
Zeri and Janna Official Splash Arts / Riot Games
Zeri's second appearance in this list is accompanied by the Support unit Janna, with a win rate of 57.66%. This combination works for a lot of the same reasons Zeri works so well with Renata; Janna's shield allows Zeri to proc her passive. Since Janna also focuses on Movement Speed, combining them creates an incredibly fast Bot lane that can utilize both slows and knockups to catch up to enemies extremely quickly.
2.

Vayne & Janna
Vayne and Janna Official Splash Arts / Riot Games
Vayne and Janna sit with the second highest bot duo winrate in Patch 12.11, at 57.76%. This combination also works well since both of the champions thrive off of Movement Speed. Vayne has extremely high mobility, with her dodge as well as her Movement Speed passive. This can be combined with Janna's knockup, Movement Speed, and enemy slow to rundown enemies and dodge their abilities with ease.
1.

Zeri & Soraka
Zeri and Soraka Splash Arts / Riot Games
Seeing her third appearance in the top five, the bot lane duo with the highest winrate this patch is Zeri with a Soraka Support, with a winrate of 58.26%. Soraka's Q slows enemies, making it easy for Zeri to hit her slow and run them down. In addition, Soraka's heals allow Zeri to run into combat and wipe enemies out before having a chance to die. While Soraka doesn't have a shield, giving her Runes that allow her to provide one (such as Summon Aery) can allow Zeri to take full advantage of her passive, allowing them to dominate their lane.