5 Best HDR Blueprints in Warzone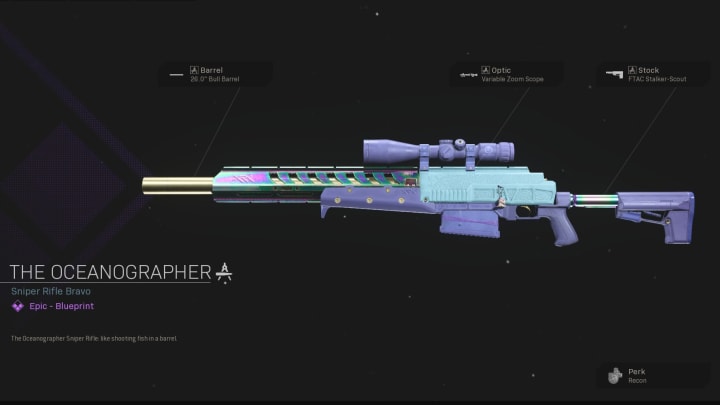 This list has you covered with the best HDR blueprints in Call of Duty: Modern Warfare. / Photo courtesy of Activision
Looking for the five best HDR blueprints in Warzone?
This list has you covered with the best HDR variants in Call of Duty: Modern Warfare by looks, value and competitive edge.
5 Best HDR Blueprints in Warzone
5. Early Riser
Players looking to channel their inner Duck Dynasty energy should look no further than the rare Early Riser blueprint. Its included Variable Zoom Scope and Slight of Hand attachments are handy, while the woodland theme of the variant makes any outdoor sniper feel right at home.
4. The Alpha
Perfect for those who prefer to stalk their prey from afar with the HDR, The Alpha blueprint boasts a wolf design with red details highlighting the hunter's eye and the sniper's trigger. Additionally, it comes stocked with a 26.9" HDR barrel and a Thermal Sniper Scope tailor-made for Verdansk at night.
3. The Oceanographer
The cutesy, pastel theme of The Oceanographer is the perfect centerpiece for the killcams your enraged enemies will be seeing. Complete with a lavender Variable Zoom Scope and a trippy metallic finish on its FTAC Stalker-Scout stock, this epic blueprint is well worth the 1,400 CoD points.
2. CDL Champs 2020 HDR
A legendary blueprint worthy of commemorating the Call of Duty League's biggest tournament, the CDL Champs 2020 HDR is one of its best variants. Outfitted with black and gold aesthetics for the 26.9" HDR Pro, Variable Zoom Scope and FTAC Stalker-Scout, this blueprint checks all the boxes in both looks and performance.
1. Grassy Knoll
It is ironic that it's classified as a common because the Grassy Knoll is one of the rarest blueprints in all of Warzone. The Grassy Knoll HDR is exclusive to those who pre-ordered the $80 Operator Edition of Call of Duty: Modern Warfare. Although it comes with just a 17.2" Bull Barrel, it easily distinguishes itself in Verdansk with a cloth wrapped around the gun.