5 Best Horror Games on PS Plus for Halloween 2022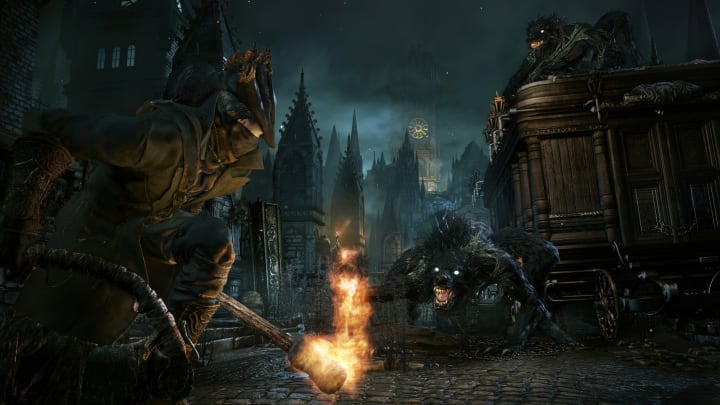 FromSoftware
With Halloween just around the corner, there's never been a better time to play some spooky games. Here are the five best horror games available to play on PS Plus this Halloween.
Halloween is creeping up on us. Whether you're a horror enthusiast or a spooky rookie, this season is the perfect excuse to fire up some excellent and terrifying games. Finding the right game can be tricky, especially if you need to part with some cash to play it. But, if you're a PS Plus subscriber, there's a whole library of games at your fingertips, ready to play at no additional cost.
Below, we've listed the five best horror games available to play on PS Plus this Halloween.
5 Best Horror Games on PS Plus for Halloween 2022
1.

Resident Evil 7: Biohazard

Resident Evil 7 gave the franchise an overdue kick in a new direction, with a first-person perspective and a move back to its survival horror roots. Players are put in the shoes of Ethan Winters, a man who receives a mysterious message from his lost wife, beckoning him to an isolated plantation owned by the Baker family. Horror takes a new form in this Resident Evil entry.

Resident Evil 7: Biohazard released in 2017 for PS4, Xbox One, and PC.
2.

Until Dawn

If you're looking for the classic slasher horror experience in video game form, then Until Dawn should help scratch that itch. A group of teenagers return to lodge in the mountains a year after a tragic accident, but they're aren't alone. Player decision is key in this narrative game, where every choice has the chance to alter the fates of each character. Until Dawn features performances from the likes of Rami Malek, Hayden Panettiere, Peter Stormare and more.

Until Dawn was released in 2015 for the PS4.
3.

The Dark Pictures Anthology: Man of Medan/Little Hope

If you've played through Until Dawn, then you might want to try Supermassive Games' newer series, The Dark Picture Anthology. Two games from the series are currently on PS Plus — Man of Medan and Little Hope. Both games follow a similar structure to Until Dawn, where players have difficult choices to make that effect the outcome of the game. 

Man of Medan released in 2019 for the PS4, PS5, Xbox One, Xbox Series X|S, and PC,  followed by Little Hope in 2020 for the same platforms.
4.

Friday the 13th: The Game
Illfonic
Dead by Daylight might not be on PS Plus, but asymmetrical horror title Friday the 13th: The Game is. Up to seven players take on the role of Camp counselors, competing against one player as iconic villain Jason Voorhees. Camp counselors must explore the semi-open world, looking for tools, equipment and resources that will aid their escape, before they're captured by Jason.

Friday the 13th: The Game was released in 2017. In 2020, the game's servers were shut down but the game is still available to play through peer-to-peer matchmaking.
5.

Bloodborne

Bloodborne? While not the typical horror entry on this list, Bloodborne's Lovecraftian setting and gothic atmosphere make it the perfect game to play this spooky season. Players create a Hunter, who must then fight their way through the infected-filled streets of Yharnam. Various horrors await players on their journey which, like any Souls-like, is a perilously challenging feat. If you've yet to play one of FromSoftware's masterpieces, then trick-or-treat yourself this October.

Bloodborne was released in 2015 for the PS4.