5 Reasons Why You Should Sign up for the KFC Battle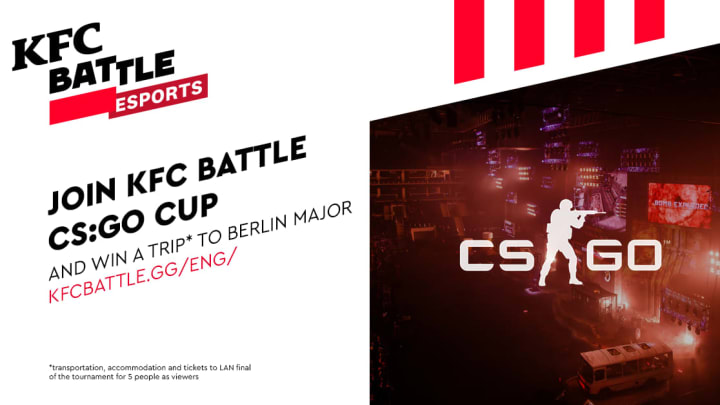 KFC plans to host a KFC Battle tournament for Counter-Strike: Global Offensive tailored for central and eastern European aspiring players. A mighty prize awaits the winners as KFC will send them to the grand finale of the StarLadder Berlin Major this fall.
The tournament is free entry for 17 central and eastern European teams. It takes throughout Maay, June and July, and there are three stages. You can sign up here!
The first features teams battling online in eight open qualifiers through FACEIT each weekend after May 11, followed by closed qualifiers on June 7-9 that eventually lead to a grand final in Moscow on July 13-14
Here's five reasons why you should sign up for the KFC Battle.
5. It's Free!
As previously mentioned, this is a completely free tournament. Get four of your friends, or find people online with the same goal and give it a shot! No harm, no foul.
4. Tournament Experience
Are you part of an amateur CS:GO team with some friends and are looking for more competition? Sign up for the KFC Battle and put your team to the test. Worse comes to worst, your team's one of the best in the bracket and advance to the next stage!
3. Playing Teams Outside of Your Country
The tournament is open to a bevy of countries which means great practice for amateur teams looking to improve.
2. Playing at a LAN Final
If your team is good or lucky enough to advance to the final, you get the opportunity to play at a LAN final, which is even more invaluable experience for aspiring CS:GO pros.
1. Free Trip to the Major
The winning team receives a free trip to the StarLadder Berlin Major in September. If you've never been to a CS:GO Major, it's an event you should experience once for esports fans. The atmosphere is electric, history is made and it's an overall fun time to be surrounded by CS:GO fans enjoying the game we all love.
This article was brought to you by a commercial partnership between DBLTAP and ESforce