Top Games
Abandoned Iraq War Shooter Six Days in Fallujah Revived for 2021 Release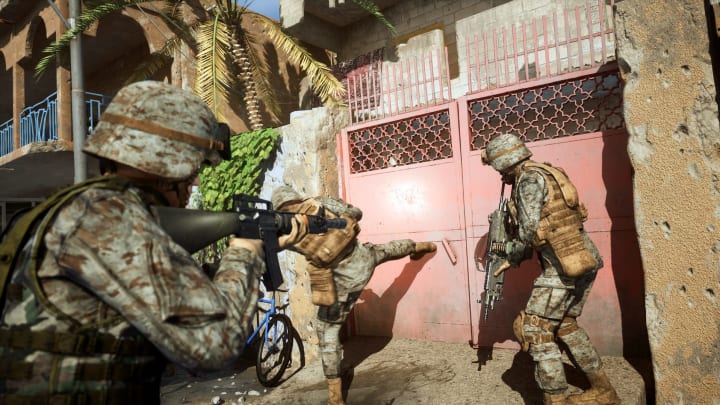 Six Days in Fallujah is back from the dead. / Photo courtesy of Highwire Games/Victura
Six Days in Fallujah, the controversial military shooter Konami killed 11 years ago, has been revived by a development studio full of ex-Halo and Destiny developers.
Six Days in Fallujah aims to portray the 2004 assault on Fallujah, one of the deadliest and messiest portions of the War in Iraq. Studio Atomic Games set out to portray the conflict realistically, based on the experience of US service members, but publisher Konami pulled the plug after the game came under fire for purportedly glorifying the conflict.
Now, former Atomic Games CEO Peter Tamte is leading the revival with Victura, the company he founded in 2016. Development studio Highwire will build the game. Jaime Griesemer, the lead designer for the original Halo and Destiny games, Marty O'Donnell, the audio director and composer for Halo and Destiny, and Airtight Games co-founder Jard Noftle established Highwire in 2015.
The developers say they're working with over 100 marines, soldiers and Iraqi civilians in an attempt to stay true to the events as they occurred.
Tamte says the game will provide players a more visceral experience of the invasion of Iraq.
"It's hard to understand what combat is actually like through fake people doing fake things in fake places," he said, presumably describing movies and not video games, which feature real people, apparently. "This generation showed sacrifice and courage in Iraq as remarkable as any in history. And now they're offering the rest of us a new way to understand one of the most important events of our century. It's time to challenge outdated stereotypes about what video games can be."
The Iraq War remains one of the most divisive issues in American politics. More than 4,000 American service members died in the conflict, as did hundreds of thousands of Iraqis, per some estimates.
Even in 2009, the notion of commercializing the conflict raised hackles. The Stop the War Coalition peace group in particular criticized the game for glossing over the Iraqi perspective on the attack.
"The massacre carried out by American and British forces in Fallujah in 2004 is amongst the worst of the war crimes carried out in an illegal and immoral war," spokesperson Tansy E. Hoskins told TechRadar at the time. "It is estimated that up to 1,000 civilians died in the bombardment and house-to-house raids carried out by invading troops. So many people were killed in Fallujah that the town's football stadium had to be turned into a cemetery to cope with all the dead bodies."
Six Days in Fallujah is scheduled for release on PC and consoles this year.