AC Valhalla Yule Festival: Everything You Need to Know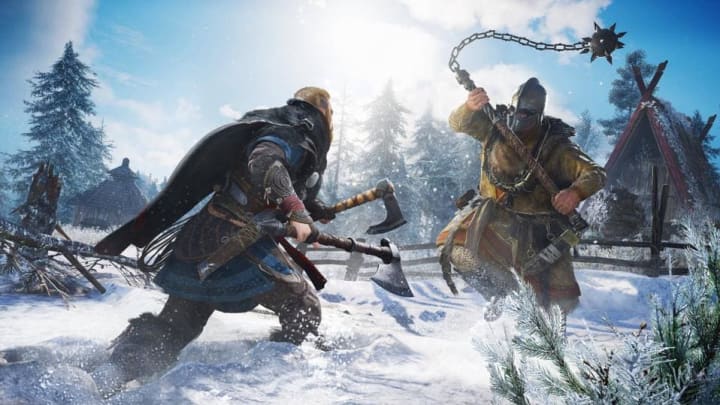 AC Valhalla's Yule Festival allows players to partake in the Norse celebration of the winter solstice. / Ubisoft
AC Valhalla's Yule Festival allows players to partake in the Norse celebration of the winter solstice.
Ubisoft is slated to release a new patch for Assassin's Creed: Valhalla (AC:V) Tuesday, Dec. 15, paving the way to further gameplay improvements, bug fixes, and the festival of the winter holiday, Yule. With the implementation of update 1.1.0, players will be able to celebrate Yule with Eivor and their clanmates on Dec. 21—the date of the winter solstice.
AC Valhalla Yule Festival
There isn't much concrete information about exactly what Yule in AC:V entails. Ubisoft has committed to providing more context as the date approaches, however, so fans may just have to wait. For now, the confirmed festival points are vague, including decorations, revelers, and unique rewards.
Yule, itself, is a pagan celebration meant to honor the longest night of the year. It goes without saying that the rituals and mythology of the holiday vary from culture to culture. However, each one has made its mark on modern-day Christmas traditions.
In Viking era Germanic culture, Yule—or Jól, as it was known—celebrated the god Odin—also known as Jólnir or Jólfaðr—as he led the Wild Hunt across the winter sky. It was said that if children left hay in their boots outside the door for Odin's eight-legged stallion, Sleipnir, he would leave a small gift or treats in its place.
Some scholars have even drawn a link between Sleipnir's eight legs and the concept of Santa Claus having eight reindeer.
Otherwise, the holiday was made up of feasting, drinking, and honoring the dead—some of which would've been hunters in the Wild Hunt, itself. The Yule Goat is derived from Thor whose wagon was pulled by two large rams. Evergreen trees were revered for their perceived invincibility against the cold and the Yule Log was the sacred top of the tree that was used for warmth and decoration.
Even mistletoe has a place in Norse mythology as the single entity in all the world that could kill Odin's son, Baldur. In her grief, Frigg's tears became the plant's white berries and she declared it should contrarily be known as a symbol of peace and friendship.