FIFA
Adebayo Akinfenwa FIFA 22: How to Complete the EOAE SBC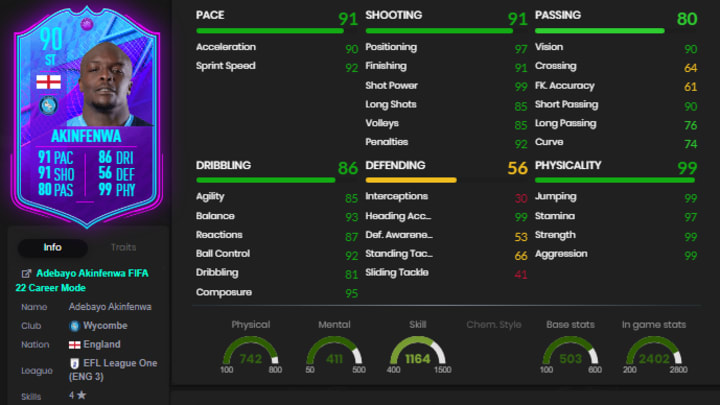 Photo by FUTBIN
Adebayo Akinfenwa FIFA 22 End of an Era SBC went live May 9 at 12 p.m. during the EFL portion of Team of the Season.
This Premium SBC was rumored to be arriving in FIFA Ultimate Team at some time and it makes sense that he's been released during the EFL TOTS. Akinfenwa is a FIFA and footballing icon. He's had multiple cards over the course of FUT that have gained cult status. With Akinfenwa set to retire at the end of this season, EA Sports released a special End of an Era card celebrating his career.
He looks like one of the best cards released this year and should be one that features in squads for the rest of the year.
Adebayo Akinfenwa FIFA 22: How to Complete the EOAE SBC
Here's how to complete the FIFA 22 EOAE Akinfenwa SBC:
One Segment
# of Players from England: Min. 1
TOTW Players: Min. 1
Squad Rating: 84
Team Chemistry: 70
# of Players in the Squad: 11
This is one of the best SBCs released all year. He costs the same as TOTS Carlos Vela plus a Team of the Week card. He's not even difficult to get on full chemistry considering the amount of Icons available at this point in the year and the other EFL TOTS cards. He's got strong pace, lethal shooting, decent dribbling, but what makes this card stand out is his physicality. He's got 99 in every physical statistic outside of Stamina which is 97.
He also has four-star skills and weak foot. Complete this card and have some fun for the final months of FIFA 22.
EOAE Akinfenwa expires June 9.