Adidas Unveils GMR Insole, Integrating Physical Game With EA Sports' FIFA Mobile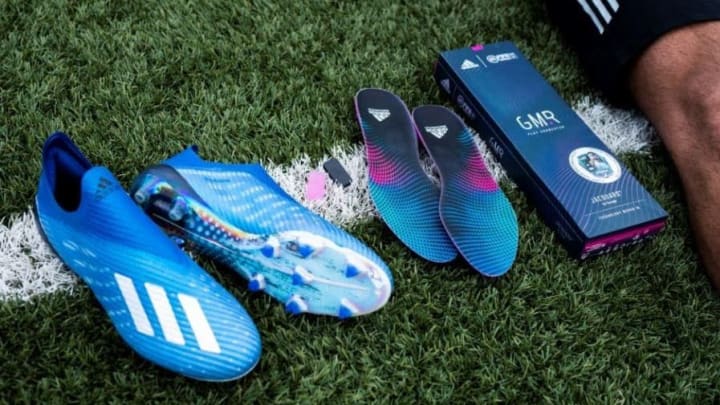 Photo by Adidas /
Adidas revealed the GMR insole Tuesday, a new innovation in wearable technology powered by Jacquard by Google and partnered with EA Sports FIFA Mobile.
"Together with EA SPORTS™ FIFA Mobile and Jacquard™ by Google, adidas today launches adidas GMR – an innovation that merges physical football and digital gaming, giving players the power to play connected by improving their FIFA Mobile Ultimate Team™ overall rating (OVR) through real-world play using the Jacquard by Google Tag," Adidas said in a press release.
The GMR insole encourages users to complete in-game challenges in real life. These challenges correlate with ones available in FIFA Mobile Ultimate Team.
"One of the first challenges is Master Finisher, which sees players tasked with taking 40 powerful shots in the penalty box within a week to earn coins and skill boosts in their FIFA Mobile game. A player's hardest shot will even be ranked on different leaderboards, giving them the chance to earn bragging rights over their friends," Adidas said in the press release.
The GMR insole can be used in any type of footwear.
"We are always looking at how we can bring new experiences to our players that bridge the real-world of football with our virtual world in FIFA Mobile. With adidas GMR, we are debuting a new way to progress in the game, enabling players to grow their Ultimate Team in FIFA Mobile through the game they love, both on and off the pitch," Matt Lafreniere, EA SPORTS FIFA Mobile Producer, said.
Adidas GMR insole costs $35 retail while FIFA Mobile is available for free to download in the App Store and Google Play Store.