AK74u Modern Warfare: How to Build the Secret Weapon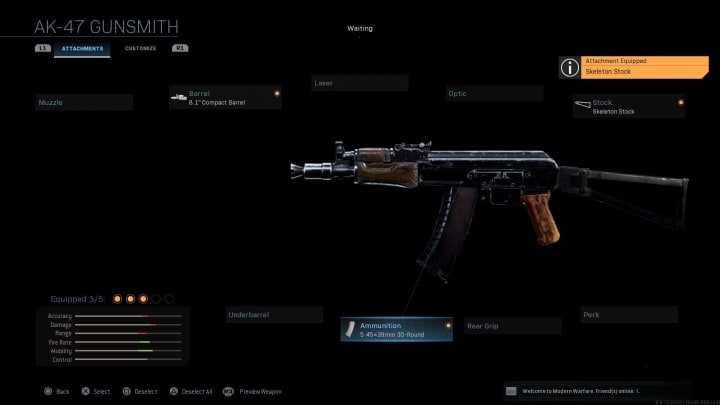 Photo Courtesy of Infinity Ward /
AK74u Modern Warfare might not actually be a weapon in the latest Call of Duty title, but that doesn't mean it's not available one way or another.
Through Gunsmith, players have brought to life the AK74u in Modern Warfare. Here is How to Build the Secret Weapon.
Ak74u Modern Warfare: How to Build the Secret Weapon
To create the AK74u, players should navigate to the Multiplayer Menu and create a new weapon class. Start by equipping the AK-47 Assault Rifle and then open the Gunsmith panel. There are three required attachments to turn this AR into an SMG.
The first attachment you need to equip is the Barrel: 8.1" Compact Barrel. This attachment increases your Aim Down Sight Speed and Movement Speed. The next attachment is the Stock: Skeleton Stock. This attachment increases Aim Walking Movement Speed, Movement Speed and Aim Down Sight Speed. The final required attachment is the Ammunition: 5.45 x 39mm 30-Round Mags. This attachment increases the Fire Rate and Aiming Recoil Control.
You should be left with two extra attachment slots. These can contain any attachment or perk of your choice. Sleight of Hand is a good perk if you want a faster reloading speed. If you struggle with your aim and want an Optic, that is also an option. The G.I. Mini Reflex or the Operator Reflex Sight decrease your Aim Down Sight Speed but are the best sight options.