Alex Telles FIFA 22: How to Complete the Showdown SBC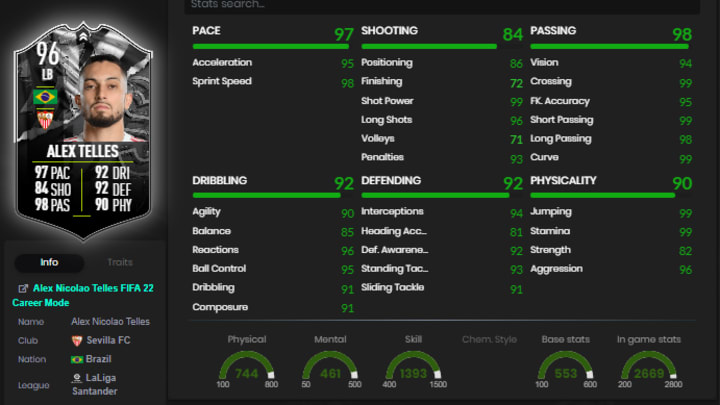 Photo by FUTBIN
Alex Telles FIFA 22 Showdown SBC is now live ahead of Sevilla's clash with Barcelona in LaLiga.
Alex Telles joined Sevilla on loan for the 2022/23 season after two disappointing years with Manchester United. He received a transferred Showdown card alongside Barcelona's Jules Kounde for the two teams' upcoming fixture. Showdown items upgrade depending on the real world result from the highlight match.
Player From the Winning Team: +2 Overall
Player From the Losing Team: No Boost
If Teams Draw: Both Players Receive +1 Overall
Alex Telles FIFA 22: How to Complete the Showdown SBC
Here's how to complete the FIFA 22 Showdown Alex Telles SBC:
Segment 1
# of Players from Brazil: Min. 1
Squad Rating: 86
Team Chemistry: 60
# of Players in the Squad: 11
REWARD: Small Rare Mixed Players Pack
Segment 2
# of Players from LaLiga: Min. 1
Squad Rating: 87
Team Chemistry: 55
# of Players in the Squad: 11
REWARD: Premium Mixed Players Pack
Telles is cheaper to complete than Showdown Kounde, but players might already have FUTTIES Premium Renan Lodi in that position. This card can hit 98 overall, but it's important to note how both teams are performing currently in LaLiga.
Barcelona is currently sat third with two wins and one draw. Sevilla has yet to pick up a win this season losing two of its three opening fixtures. Most would figure that Barcelona will take the win easily, but anything can happen.
Showdown Alex Telles expires Sept. 3.
---
Check out recent leaks regarding FIFA 23 ratings: