FIFA
Alexandre Pato FIFA 22: How to Complete the FUTTIES SBC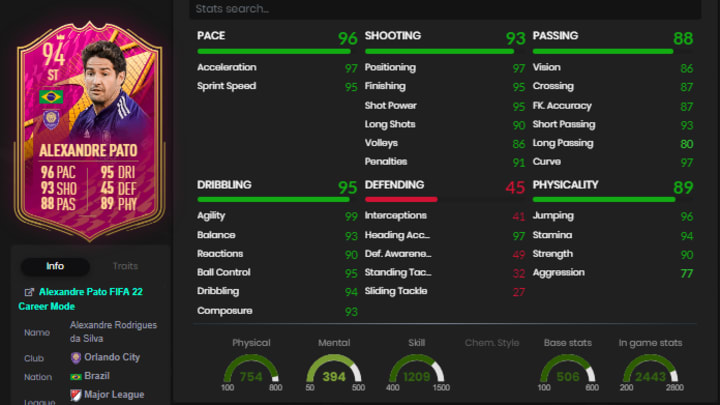 Photo by FUTBIN
Alexandre Pato FIFA 22 FUTTIES SBC went live July 24 during Batch 2 of the annual promotion.
Pato, a Brazilian striker for MLS team Orlando City FC, was a nominee in the recent five-star skill moves fan vote alongside Arthur Cabral and Rafinha. Paris Saint-Germain midfielder Rafinha won the initial vote receiving a Premium FUTTIES item. Pato received a similar item on July 24 after he assumedly was the runner-up in the fan vote. Liverpool's Luis Diaz won the first fan vote, though a special Kai Havertz card who was nominated alongside Diaz received an item later on.
Alexandre Pato FIFA 22: How to Complete the FUTTIES SBC
Here's how to complete the FUTTIES Alexandre Pato SBC in FIFA 22:
One Segment
# of Players from Brazil: Min. 1
Squad Rating: 85
Team Chemistry: 65
# of Players in the Squad: 11
A decent price for an item that looks like it'll be a fan-favorite for the rest of the game cycle. FUTTIES Pato has top tier pace, shooting and dribbling. His passing leaves a little to be desired, but such is the cast with most strikers in FIFA 22. As well, since he is a Premium FUTTIES card, he will hard link to any MLS player which will massively help with chemistry. Plus, there are multiple SBCs available for special Brazilian items so that will help get him on full chemistry as well.
If you have the fodder and are looking for a top-tier striker for the FUTTIES Brazil Cup, Pato is a great option.
FUTTIES Pato expires July 31.