FIFA
Alexis Sanchez FIFA 22: How to Complete the Player Moments SBC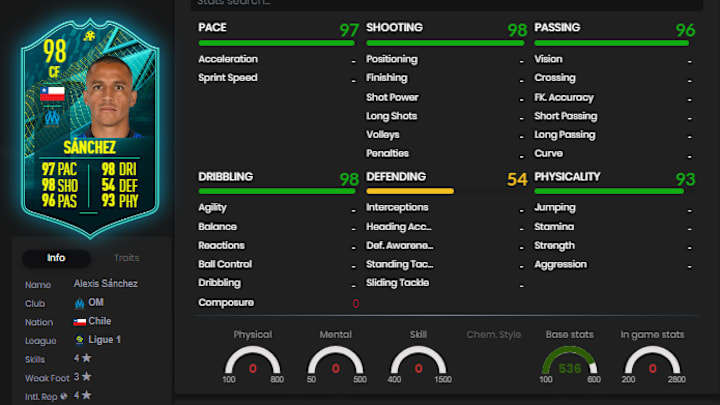 Photo by FUTBIN
Alexis Sanchez FIFA 22 Player Moments SBC went live Sept. 9 during the FIFA 23 Pre-Season promotion.
Alexis Sanchez's new 98 rated item celebrates his move to Marseille in the summer. On the surface, it looks like the best card Sanchez has ever received in FUT history. Arsenal, Barcelona, Manchester United and Inter fans also have another top tier option to add to their squads now as well in FIFA 22's final days.
Alexis Sanchez FIFA 22: How to Complete the Player Moments SBC
Here's how to complete the FIFA 22 Player Moments Sanchez SBC:
Segment 1
# of Players from Ligue 1: Min. 1
Squad Rating: 85
Team Chemistry: 70
# of Players in the Squad: 11
REWARD: Small Prime Electrum Players Pack
Segment 2
TOTW or TOTS Players: Min. 1
Squad Rating: 86
Team Chemistry: 60
# of Players in the Squad: 11
REWARD: Small Prime Gold Players Pack
Moments Sanchez is great for theme teams, but players might also be trying to hit a 98 or 99 rated squad. This card could come in handy for those missing out on a few players to hit that rating threshold.
FIFA 22 Moments Sanchez expires Sept. 17.