Ali-A Discovers Hints About Fortnite's Mysterious Spaceship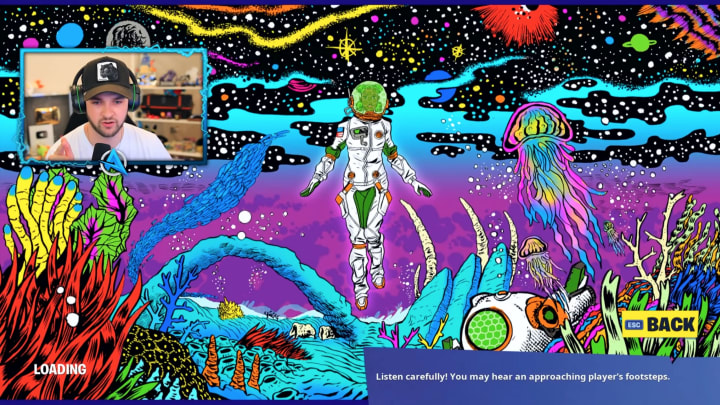 A loading screen ties the Siona skin to the underwater spaceship. / Courtesy of Epic Games/Ali-A
A video by Fortnite YouTuber Alastair "Ali-A" Aiken pointed out several hints Wednesday about spaceship related content Epic Games has teased over the course of Chapter 2 Season 3.
In the video, Ali-A explores the space theme as it appears in the Fortnite Chapter 2 Season 3 battle pass cosmetics. His investigation notes several small gestures toward space but centers around the Siona skin. Siona's spacesuit, unlocked at battle pass level 80, appears very similar to the spacesuit worn by the mysterious astronaut sitting inside the spaceship lying underwater by Craggy Cliffs.
Ali-A Discovers Hints About Fortnite's Mysterious Spaceship
Ali-A also points out a loading screen unlocked at battle pass level 81 that shows Siona floating underwater by the crashed spaceship, further underscoring the connection between the two.
Using Fortnite's replay mode, Ali-A manages to go inside the helmet of the astronaut stuck inside the spaceship and see the astronaut's face. It appears likely he and Siona traveled together, but something happened to him to keep him stuck inside the ship.
Fortnite Chapter 1 Season 3 also sported a space theme, and Ali-A claims the repetition is intentional. He believes the astronauts are tied to the Seven, a group of characters that includes The Visitor, The Scientist and The Paradigm, and about which little is known.
Fortnite data miners previously uncovered challenges tied to the crashed spaceship, which players expect will be uncovered after one or two more decreases in the water level.