Alisson FIFA 23: How to Complete the Premier League TOTS SBC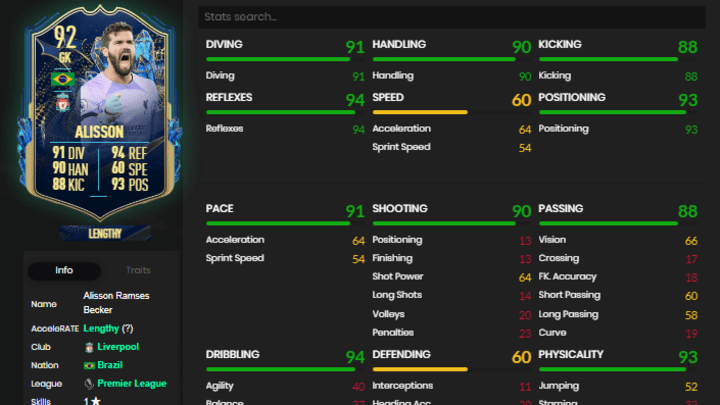 FUTBIN
Alisson FIFA 23 Premier League TOTS SBC went live May 9 giving players the option of a top-tier goalkeeper for their Ultimate Team squads.
The Premier League Team of the Season remains available until Friday, May 12 at 1 p.m. ET when the Bundesliga portion of the promotion begins. A new PL TOTS SBC was released for Liverpool goalkeeper Alisson Becker who performed admirably and many Liverpool fans would say he's been their best player this season. Though, goalkeeper SBCs don't really get players excited. Still, is it worth completing?
Alisson FIFA 23: How to Complete the Premier League TOTS SBC
Here's how to complete the FIFA 23 Team of the Season Alisson SBC:
Segment 1
Brazil Players: Min. 1
Squad Rating: 83
No Chemistry Requirement
Players in the Squad: 11
REWARD: Gold Pack
Segment 2
Premier League Player: Min. 1
Squad Rating: 86
No Chemistry Requirement
Players in the Squad: 11
REWARD: Small Electrum Players Pack
TOTS Alisson is 92 overall and it's the first special item released for the goalkeeper this year. Compared to other special versions of Alisson in previous FUT titles, this SBC is a pass unless you for some reason need an extra Liverpool or Brazilian link. There are plenty of other goalkeeper options, including Aaron Ramsdale who's 26,000 coins on the Transfer Market. Alisson is around 80,000 coins which is just insane unless players have leftover fodder from Upgrade SBCs.