All Games Coming to PC Game Pass this March 2022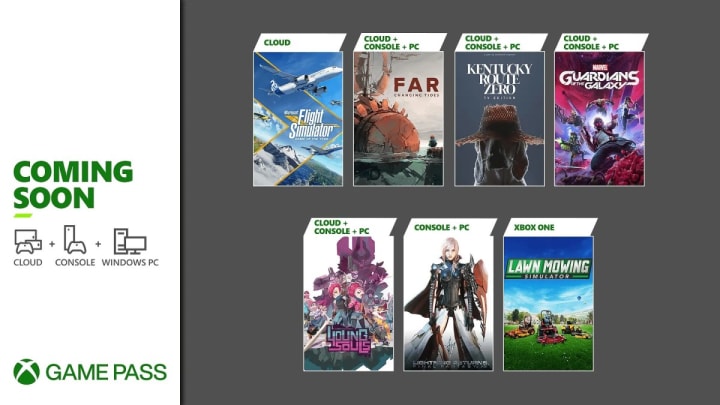 Curious about what's coming to PC Game Pass this March 2022? We've got you covered. / Microsoft
Curious about what's coming to PC Game Pass this March 2022? We've got you covered.
Microsoft announced all the titles coming to its Game Pass subscription service earlier today, Mar. 1, through a post on its official news site. We've taken the liberty of compiling the full list of titles PC players will be able to enjoy, below.
PC Game Pass March 2022: All Games Coming to PC Game Pass
1.

FAR: Changing Tides
"Solve puzzles, navigate the changing weather and dive to unknown depths in your search for a new home." / Okomotive
Available on Day One—Mar. 1. In this unique puzzle game, players step into the shoes of Toe and "embark on a stunning new journey in this atmospheric vehicle adventure set in a beautifully realized, post-apocalyptic world."
2.

Lightning Returns: Final Fantasy XIII
"Once again, its fate rests on the shoulders of one woman." / Square Enix
Available on Mar. 3. Lightning faces her toughest challenge yet: saving the world in just 13 days. This title comes with "a new game world, a new battle system, and extended customization features."
3.

Kentucky Route Zero
"Kentucky Route Zero is a magical realist adventure game about a secret highway running through the caves beneath Kentucky..." / Cardboard Computer
Available on Mar. 10. A game in five acts, Kentucky Route Zero explores themes of "unpayable debts, abandoned futures, and the human drive to find community."
4.

Marvel's Guardians of the Galaxy
You got this. Probably. / Eidos-Montréal
Available on Mar. 10. Players take up the mantle of Star-Lord in this Marvel adaptation. They will find themselves experiencing a fresh new take on the Guardians of the Galaxy, "with original and iconic Marvel characters caught in a struggle for the fate of the universe."
5.

Young Souls
"Gear up and begin your journey solo or coop to rescue the Professor." / 1P2P
Available on Mar. 10. Players can undertake this game alone or with friends to rescue the Professor.



"Young Souls draws you in with not only its stunning art direction, clever beat 'em up gameplay and RPG mechanics, but also with its sharp writing and incredible universe setting between two worlds you will fall in love with." The post reads.
---
In addition to some new games, the Microsoft Xbox PC application will also be receiving an update based on tester feedback. The following perks will be available in the app going forward:
Choice of what folder your games get installed to
Access to files for select games you've installed, as well as options to repair and move your games
Ability to mod more games
The update can be installed via the Microsoft Store app by navigating to the Library and selecting "Update" next to the Xbox App listing. To enable the perks explained above, players simply need to right-click them from the lefthand toolbar and select "Manage" then "Enable."
PC subscribers will also benefit from the following extra perks:
Halo Infinite: Pass Tense Mongoose Bundle—Mar. 9
Century: Age of Ashes: Hjørrani Savannah Bundle—Mar. 14
More information about Game Pass this month, including the games coming to console and those leaving the service, is available in our companion articles.