FIFA
All Leaked FIFA 22 Premier League TOTS So Far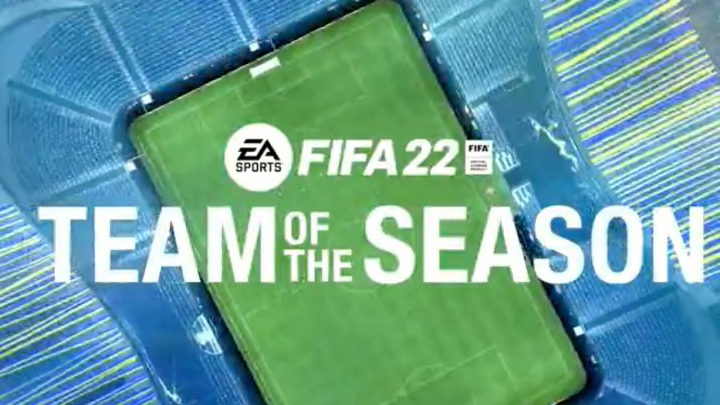 The Premier League TOTS arrives in FIFA 22 on May 6 / Photo Courtesy of EA Sports
The Premier League Team of the Season arrives in FIFA 22 on May 6 at 1 p.m ET, and many of the new cards coming have already been leaked. The Premier League TOTS was voted on by the FIFA community, and the winners will be receiving inclusions in the team, as well as an objective and in SBCs.
Many of the cards being added in Premier League TOTS have already had their stats leaked as well. Here all all of the leaked FIFA 22 Premier League TOTS cards so far.
FIFA 22: All Leaked Premier League TOTS So Far
Mohamad Salah (RW, Liverpool: 98 Rated)
Bruno Fernandez (CAM, Manchester United: 93 Rated)
Declan Rice (CDM, West Ham: 92 Rated)
Rodri (CDM, Manchester City: 91 Rated)
Diogo Jota (CF, Liverpool: 91 Rated)
Heung Min-Son (LW, Tottenham: 95 Rated)
Bernardo Silva (CAM, Manchester City: 94 Rated)
Trent Alexander Arnold (RB, Liverpool: 93 Rated)
Allison (GK, Liverpool: 95 Rated)
Virgil Van Dijk (CB, Liveprool: 96 Rated)
João Cancelo (LB, Manchester City: 95 Rated)
Kevin De Bruyne (CM, Manchester City: 96 Rated)
Sadio Mane (LW, Liverpool: 97 Rated)
Compared to our predictions, the Premier League TOTS is preparing to have more top-level cards, especially in the attack if the rating leaks are true. A 98-rated Salah and 97-rated Ronaldo will be sought after for the remainder of this year's game cycle.
There are more expected Premier League TOTS cards to leak in the next day, so stay tuned here as we update you on all the remaining TOTS cards from the Premier League as they leak before this Friday.