All My Hero Academia Fortnite Skins: All Outfits, Cosmetics, Price, Bundle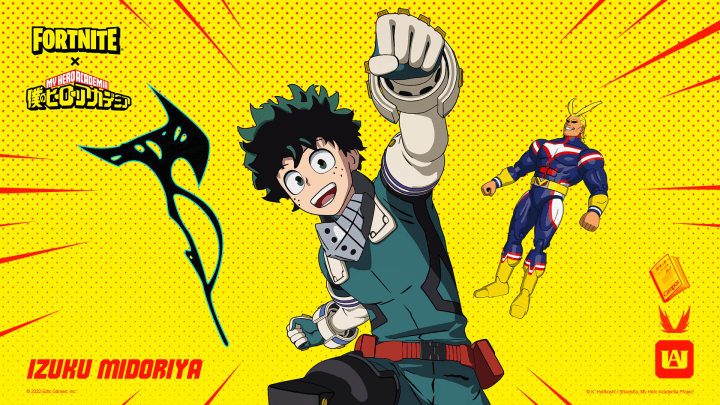 My Hero Academia Skins are available now in the Item Shop. / Epic Games
Fortnite's latest anime crossover, My Hero Academia, has arrived in-game. Here are all the skins up for grabs in this latest collab.
Crunchyroll has teamed up with Epic Games to bring My Hero Academia to Fortnite. Similar to Fortnite's previous anime collaborations, with Naruto and Dragon Ball, players can test out new My Hero Academia themed gameplay in Fortnite Battle Royale and Zero Build.
Players will be able to use Deku's Smash out in the field, and pick up resources from All Might Supply Drops. The new Hero Training Gym island, built by creator team Zen Creative, lets players choose from one of three classes to go head-to-head in team vs. team combat.
But, what fans are most excited for are the brand new skins and Outfits. Here's what's on the table.
All My Hero Academia Fortnite Outfits Listed
There are four My Hero Academia Outfits to purchase from the Item Shop:
Izuku Midoriya
Izuku Midoriya Outfit. / Epic Games
Included with the Izuku Midoriya Outfit is the All Might Collectible Back Bling. A reactive Back Bling, this All Might figurine will cheer you on with each elimination you get. Switch to his alt Style using the built-in transformation Emote, Izuku's Quirk.
All Might
All Might Outfit. / Epic Games
Players can transform from All Might's normal looking persona to Pro-Hero, by using the All Might Outfit's built-in transformation Emote. Also included with All Might is the Principal Nezu Back Bling.
Katsuki Bakugo
Katsuki Bakugo Outfit. / Epic Games
Bakugo's Outfit comes with his Hero Alt Style. Also included with the Outfit is the Grenade Backpack Back Bling.
Ochaco Uraraka
Ochaco Uraraka Outfit. / Epic Games
Included with this Outfit is the Uravity Booster Back Bling.
Additional accessories themed around each character are also available from the Item Shop, either separately or as part of a bundle. These include:
Blackwhip Axe Pickaxe
All Smite Pickaxe
Cluster Buster Pickaxe
Uravity Smasher Pickaxe
Symbol of Peace Emote
Hero Analysis Emote
My Hero Academia Fortnite Skins and Bundle Price
Players can purchase the individual My Hero Academia Outfits from the Item Shop for the following prices:
Izuku Midoriya: 1,600 V-Bucks
All Might: 2,000 V-Bucks
Katsuki Bakugo: 1,500 V-Bucks
Ochaco Uraraka: 1,500 V-Bucks
Players can also purchase the Outfits as part of the following bundles:
All Might Bundle: 2,200 V-Bucks
All Might Outfit
Principle Nezu Back Bling
All Smite Pickaxe
Symbol of Peace Emote
All Might's Transform Emote
Class 1-A Bundle: 2,800 V-Bucks
Izuku Midoriya Outfit
Katsuki Bakugo Outfit
Ochaco Uraraka Outfit
Izuku's Quirk Emote
All Might Collectible Back Bling
Grenade Backpack Back Bling
Uravity Booster Back Bling
Class 1-A Gear Bundle: 1,500 V-Bucks
Blackwhip Axe Pickaxe
Cluster Buster Pickaxe
Uravity Smasher Pickaxe
Hero Analysis Emote