All NBA 2K24 VC Prices Detailed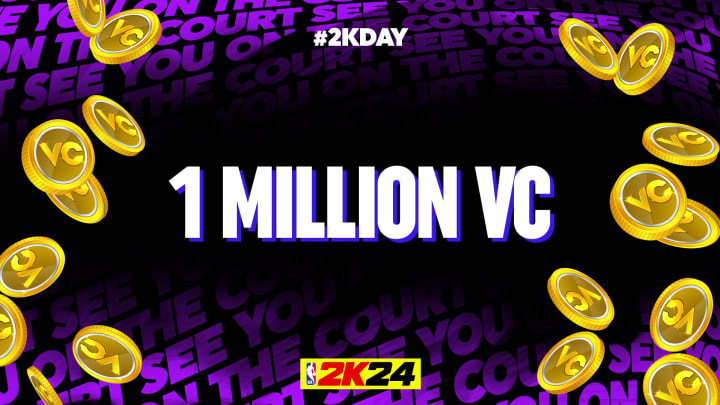 Here's all the NBA 2K24 VC prices. / Visual Concepts
Thinking of purchasing VC in NBA 2K24? We have all the NBA 2K24 VC prices detailed, plus how to earn free VC in-game.
Getting your build to a 99 OVR hinges on VC in NBA 2K24. To upgrade the best attributes, players must spend copious amounts of VC that could take weeks to earn in-game. Those looking to dominate the RISE or ELITE courts in Park as quickly as possible might opt to buy VC instead.
Here's a breakdown of all the VC prices in NBA 2K24.
All NBA 2K24 VC Prices Detailed
Here's all the NBA 2K24 VC prices:
5,000 VC: $1.99
15,000 VC: $4.99
35,000 VC: $9.99
75,000 VC: $19.99
200,000 VC: $49.99
450,000 VC: $99.99
700,000 VC: $149.99
How to Earn VC in NBA 2K24
To earn VC in NBA 2K24, players can complete quests, objectives, and play games in MyCAREER mode. Just by playing through the NBA storyline in MyCAREER will give you plenty of opportunities to earn VC in-game for free.
Two of the easiest ways to get free VC in NBA 2K24 rely on a bit of luck. Limited-time locker codes offer a range of free VC for those who claim the codes first. Also, daily rewards provide VC to those who manage a lucky spin at these locations.
Players can also watch episodes of 2KTV and answers trivia questions throughout the broadcast to earn VC. Check out all the answers to Episode 1 here.
Where to Buy VC in NBA 2K24
To buy VC in NBA 2K24, players must go to the menu in either MyTEAM or MyCAREER mode. Under the Options/Quit tab, select Get VC. Then, choose which amount you wish to buy and follow the on-screen steps to complete the purchase.
For more on NBA 2K24, feel free to check out: