All Punch Cards Fortnite Season 3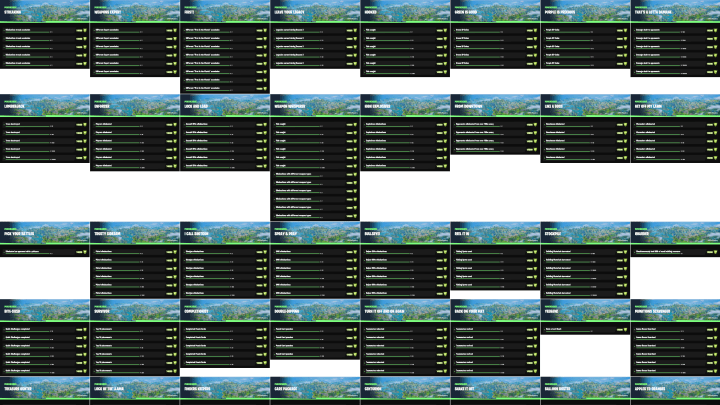 All the Punch Cards in Fortnite listed. / Courtesy of Epic Games/iFireMonkey
All the Punch Cards in Fortnite Season 3 provide players challenges toward which to work. Many of them will take quite a long time to complete, setting carrots for players to chase deep into the season. Here are all the Punch Cards available this season.
All Punch Cards Fortnite Season 3
There are dozens of Punch Cards for Fortnite Chapter 2 Season 3. Here they all are listed.
A1 — Survivor — Place in the top 10 — 3, 10, 25, 100, 250, 500
A2 — Victory Tour — Win a match in different game modes — Solos, Duos, Squads, Team Rumble, Unknown (Likely an LTM)
B1 — Hoarder — Simultaneously hold 999 of each building resource
B2 — Stockpile — Harvest building materials — 1,000; 10,000; 100,000; 250,000; 500,000; 1 million
B3 — Living Off the Land — Gather or consume foraged items — 5, 25, 100, 500, 1,000
B4 — Lumberjack — Destroy trees — 25; 100; 1,000; 10,000; 100,000
C1 — Care Package — Search Supply Drops — 1, 5, 10, 25, 100, 250, 500
C2 — Luck of the Llama — Search Treasure Llamas — 1, 5, 10, 25, 50, 100
C3 — Balloon Buster — Shoot down a supply drop
C4 — Finders Keepers — Search Rare Chests — 1,5, 10, 25, 50, 100
C5 — Munitions Scavenger — Search ammo boxes — 10; 50; 500; 1,000; 5,000; 10,000
C6 — Treasure Hunter — Search chests — 10; 50; 100; 1,000; 5,000; 10,000
D1 — Enforcers — Eliminate players — 5; 25; 100; 500; 1,000; 5,000
D2 — That's a Lotta Damage — Deal damage to opponents — 1,000; 25,000; 100,000; 500,000; 1 million; 2.5 million
D3 — Get Off My Lawn — Eliminate Marauders — 5, 25, 100, 500, 1,000
D4 — Like a Boss — Eliminate Henchmen — 5, 25, 100, 500, 1,000
E1 — Weapon Whisperer — Get an elimination with different guns — Pistol, assault rifle, submachine gun, shotgun, sniper and explosive
E2 — Bullseye — Eliminations with Snipers — 3, 10, 25, 100, 500, 1,000
E3 — From Downtown — Eliminations from 150 meters — 1, 10, 25, 50
E4 — Trusty Sidearm — Eliminations with pistols — 3, 10, 25, 100, 500, 1,000
E5 — High Explosives — Eliminations with explosives — 3, 10, 25, 100, 500, 1,000
E6 — Spray & Pray — Eliminations with SMGs — 3, 10, 25, 100, 500, 1,000
E7 — I Call Shotgun — Eliminations with shotguns — 3, 10, 25, 100, 500, 1,000
E8 — Lock & Load — Eliminations with assault rifles — 3, 10, 25, 100, 500, 1,000
E9 — Pick Your Battles — Eliminate an opponent with a pickaxe
F1 — Back On Your Feet — Revive teammates — 5, 25, 50, 100, 250, 500
F2 — Turn If Off and On Again — Reboot teammates — 1, 5, 25, 50, 100, 250
G1 — Reel It In — Use fishing spots — 3, 15, 75, 250, 500
G2 — Yeehaw! — Ride a loot shark
G3 — Hooked — Catch fish — 1, 10, 50, 100, 500, 1,000
H1 — Rags to Riches — Upgrade weapons — 10, 25, 50, 250
H2 — Grey to Gold — Upgrade weapons to different rarities — Common, Uncommon, Rare & Epic
H3 — Apples to Oranges — Sidegrade a weapon
I1 — Weapons Expert — Gather different Expert Accolades — Pistols, assault rifles, submachine gun, shotguns, snipers and explosives
I2 — Streaking — Elimination streak accolades — 2x, 3x, 4x, 5x, 6x
I3 — First! — Different "First in the Match" accolades — Land; eliminate someone; open a chest; fish; upgrade/sidegrade; open a supply drop
J1 — Centurion — Reach season level 100
J2 — Bite-sized — Complete quick challenges — 10, 25, 100, 250, 500, 1,000
J3 — Weekly Challenges — complete weekly challenges — 5, 10, 20, 40, 60
J4 — Double-Dipping — Punch Punch Cards — 10, 25, 100, 200
J5 — Completionist — Complete Punch Cards — 3, 5, 10, 20, 40
J6 — Leave Your Legacy — Earn Legacies during Season 3 — 5, 10, 15, 30, 50
K1 — Green is Good — Get Green XP coins — 3, 10, 20, 30, 40
K2 — Purple is Precious — Get Purple XP coins — 3, 5, 10, 15, 20
L1 — Good Manners — Thank the bus driver — 3, 10, 50, 100
L2 — Give it a Whirl — Use a whirlpool
L3 — Yeet! — Throw a consumable
L4 — Shake it Off — Shakedown people (henchmen or players) — 3, 10, 50, 100
M1 — Weirdly Specific — Dance while riding a zipline in the storm