All Wonder Tokens in Super Mario Bros. Wonder Puzzling Park Search Party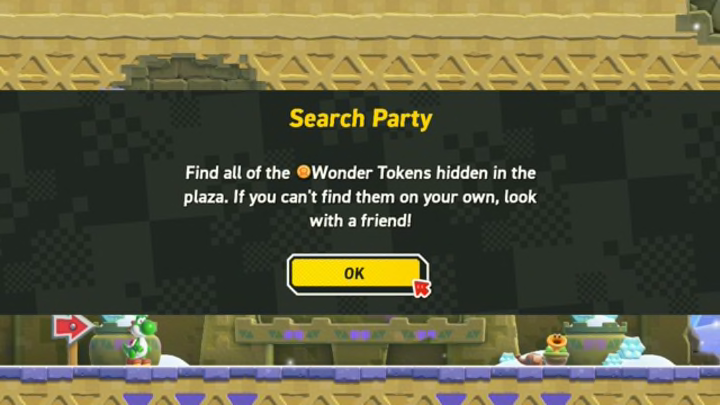 The Puzzling Park Search Party is a little difficult, and it'll only get harder from there. / Nintendo
Super Mario Bros. Wonder has several levels, and many are tough. Search Parties, in particular, require you to find five Wonder Tokens to gain a Wonder Seed. Fluff-Puff Peaks is only the second world in the game, and the Puzzling Park Search Party already has players stumped. Here's how to find all Wonder Tokens in the level.
All Wonder Tokens in Puzzling Park Search Party 
There is one token in the first open space you walk into. If you play as Nabbit or Peach, the bottom blocks will automatically show up for you. The top blocks will show up for Yellow Yoshi. Other characters will have to jump into the space to reveal the blocks. Start from the middle of the brown platform and jump to the left and right to show the hidden boxes. Jump on the blocks and do the same while standing directly under the token.
Wonder Token 1 / Nintendo
If you walk farther to the right, you'll see a golden pipe dispensing Super Mushrooms. Jump into the golden pipe to get transported to the level's background. Once you're there, you'll find the Wonder Token on the right side of the small room.
Wonder Token 2 / Nintendo
Another Wonder Token is hanging in the top right corner of the screen. There are two ways to reach it. The easiest way is to stand in the spot shown in the picture below and long press A to high jump. Doing so will reveal a growing vine you can climb to reach the token. Being Luigi will make the block appear when he comes near it.
Wonder Token 3 / Nintendo
If you're up for a meaningless challenge, you can run on the platform underneath the yellow pipe, jump onto the block, and use the Parachute Cap to glide over to the token.
You'll find another Wonder Token underneath the top area, where there are golden pipes of different sizes. The tall pipe that's farthest to the left is moveable. Push the pipe to the position in the picture below and jump on top of it. Jump again to reveal a block that's hiding a token. 
Wonder Token 4 / Nintendo
To find the last token, fall down the hole to the right of the golden pipes. It will be waiting for you at the bottom. 
Wonder Token / Nintendo
And there you go! That's the last Wonder Token.