Alvin Kamara Madden 21 Rating: What is it?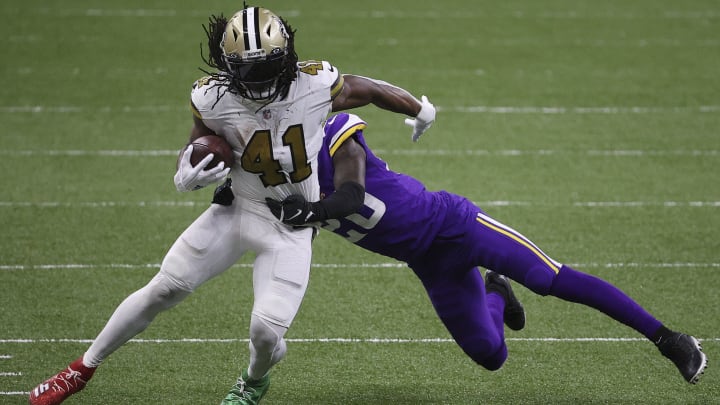 Alvin Kamara's Madden 21 rating is next up on our player reviews.
The 2017 third-round pick out of Tennessee has been a staple for the New Orleans Saints since he entered the league. Kamara is unique because of his ability to excel in both the run game and the passing game, where most of his peers excel in only one.
Alvin Kamara Madden 21 Rating
Kamara's Madden 21 rating is a little bit surprising considering the year that he has had for the New Orleans Saints. He led the NFL in total touchdowns (21) but his overall rating still only sits at a 93 OVR. Kamara started off the Madden 21 rankings with an 88 OVR, which is decent, but still does not do the former Volunteer enough credit for his game.
He set career numbers this year in total touchdowns, rushing yards, and receptions. Recently, he was named All-Pro second team for the 2020 NFL season. With numbers and accomplishments like this, it should be a foregone conclusion that Kamara deserves a serious ratings boost.
When taking a look at his Madden 21 ratings, there are a couple of obvious areas that need adjustment. First up is his catch rating of 77. How is the running back with the most amount of receptions listed with a 77 rating. For comparison's sake, Indianapolis Colts wide receiver T.Y. Hilton has an 86 catch rating while catching nearly 30 less passes and having less receiving yards than Kamara.
The next area that needs to be improved is his injury rating. While some will consider this obsolete, every category matters when trying to boost an overall rating. Kamara is listed with an 85 Injury rating, which does not make a whole lot of sense. He has missed a total of four regular season games throughout the four years he has been in the NFL.
By boosting those two areas alone, Kamara has proven he is worthy of a 95+ OVR rating and the Madden ratings adjustors need to get on this ASAP.