Amalgam Warzone Blueprint: How to Earn the Blueprint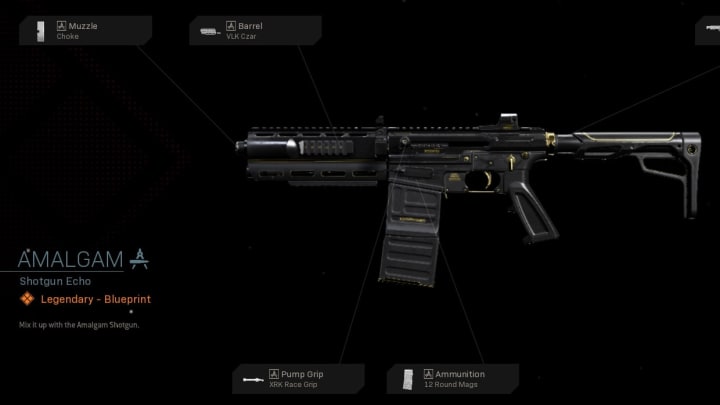 The Amalgam Blueprint for the VLK rogue brings increased accuracy and range to the shotgun. / Photo by Infinity Ward via GamesAtlas
Amalgam Warzone Blueprint is a weapon variant of the VLK Rogue Shotgun for Call of Duty: Modern Warfare which seeks to improve accuracy and range while slightly reducing damage, mobility, and control when compared to the base weapon.
The VLK Rogue is a semi-automatic magazine fed shotgun that excels in close quarters combat. This weapon is great for clearing buildings and holding down tight corners. We'll cover how to unlock this weapon as well as our recommended loadout for bringing the VLK Rogue to Warzone.
Amalgam Blueprint: Modern Warfare
The Amalgam Blueprint comes with five attachments preloaded onto the weapon. This means that all weapon slots are filled and any additional attachments must come at the expense of one already on the weapon. The default attachments for the Amalgam blueprint are:
Muzzle - Choke
Barrel - VLK Czar
Stock - Forge TAC Ultralight
Pump - XRK Race Grip
Ammunition - 12 Round Mags
If looking to take the VLK Rogue into Warzone, we'd recommend these attachments to maximize close quarters combat effectiveness while maintaining stealth:
Suppressor - Monolithic Suppressor
Barrel - VLK Czar
Stock - Forge Tac Ultralight
Ammunition - 12 Round Mags
Perk - Sleight of Hand
Amalgam Warzone Blueprint: Bundle & How to Get Yours
The Amalgam Blueprint is part of the Starter Pack Bundle, available on the Call of Duty Store for $4.99. In addition to the Amalgam Blueprint the starter pack includes 500 CP, an Alchemist Kreuger skin, Calling Card, Emblem, Double Battlepass XP token and Double XP Weapon token.