Among Us Update Adds Twitch Mobile Streaming, Discord Integration, & More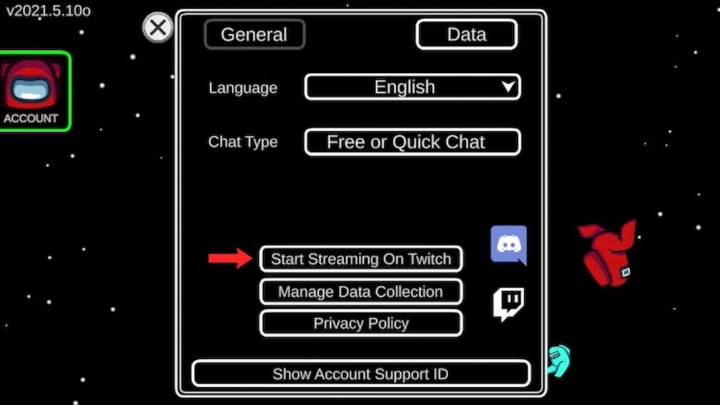 Innersloth, developer of the hit co-op game Among Us, has debuted a new update that adds full integration with both Discord and Twitch. / Innersloth LLC
Innersloth, developer of the hit co-op game Among Us, has debuted a new update that adds full integration with both Discord and Twitch, among other things.
The update was released on Monday, May 10, and was focused on changes to the mobile side of the game. With the upgrade to Version 2021.5.10, players will now be able to invite players to their lobbies via Discord and stream to Twitch directly from the game with no third steps needed. The developer also included a few mobile bug fixes and a brief mention that fans should keep an eye out for further content.
Among Us Update Adds Everything But the Kitchen Sink
Players can now livestream their mobile games directly to their Twitch channel in real time. The connection is surprisingly easy to set up. All they need to do is bring up the Among Us in-game menu and select "Start Streaming On Twitch." This should bring them to a Twitch pop-up screen where they can adjust the title and volume before going live.
Additionally, players can issue a Discord invite to their Among Us lobbies. This requires a few steps, but is just as simple as the Twitch feature. First, bring up the in-game menu and locate the Discord icon on the right. Selecting this will give players the option to Authorize Among Us to post via their account.
Following authorization, all that's left to do is start up a private lobby, wait for the Discord icon to appear on the bottom left, and select it to post an invite into their chosen channel. This invite acts identical to a server invite where those in the channel can hit "Join" and be instantly teleported to the game.
Along with this update, other minor mobile fixes include:
Pink polygon glitch fix
Missing Airship bundle skins restored
Region text no longer defaults to North America
iOS users no longer need to sign on upon every start-up
More information can be found in Innersloth's official Among Us Devlog.