An Introduction to Esports for the Average Sports Watcher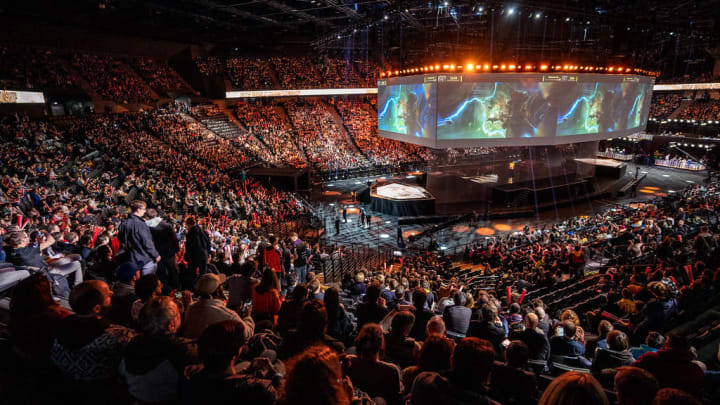 League of Legends World Championships 2019 in Paris, France / Photo by Riot Games
Similar to sports, esports is vast and intricate. It has many different sports or, in this case, games that can attract a viewer's eye.  If a viewer wants to watch a team of multiple coordinated members ala basketball or football, they can watch a team-oriented game such as League of Legends or Overwatch. If a viewer wants to watch one player try to outwit, outthink and outperform their opponent— mano y mano— they can look no further than the long list of fighting games as they're similar to boxing, MMA or tennis. In the end, there's an esport for anyone, even for sports watchers that are trying to start out.
Esports, or its technical term, "electronic sports," is quite literally what the term dictates, sports being played electronically. In this case, sports are being played electronically via the way of video games. Video games like the popular MOBA game League of Legends, First Person Shooters (FPS) like the renowned Call of Duty series or the tenured in gaming, Blizzard Entertainment's Overwatch. Even fighting games like the Mortal Kombat, Street Fighter, and Super Smash Bros. series have their say. Like sports, all it takes is a competitive mindset, willing participants in the form of players and the goal to win.  
Kobe took after Michael Jordan in many ways / Photo by Zennie Abraham via Flickr
When it comes to sports, people tend to gravitate to a specific one, one they've played and enjoy. In some cases, people like multiple sports, be it for the same reason as having played and enjoyed it or just simply enjoy watching it. It's a fairly simple concept, you enjoy the game you play so you are inclined to watch it at the highest level, maybe copy some moves, wave your country's or city's pride or enjoy watching a specific player. There are many reasons for this too, sometimes a young Kobe Bryant wants to mimic a prime Michael Jordan; copy his game and mold his style around it. Perhaps a 12-year-old fan from Lafayette Louisiana wants to see his favorite UFC fighter, Dustin Poirier beat Conor McGregor for a second time. It all rings the same— find a sport you enjoy playing or watching and get engulfed in it.
The same can be said for esports and when specifically speaking to a sports watcher who hasn't quite yet delved into esports. There are a few ways to go about it. COO of esports website, Juked, Chris Chan gives a few ways of how to narrow it down.
"The best place to start is whether you're a team sports fan or not. If you like basketball, football, or soccer, then esports like LoL, CS:GO, Valorant, and other team-based games will be the best fit since there is an understanding of teamwork and how that dynamic leads to victory," said Chan. "Obviously, if you're into watching MMA or boxing, then Smash, the FGC games, StarCraft 2, and 1v1 games would probably be the best place to start."
After choosing the esport, then one can begin to look at what's in it. Take, for example, League of Legends, more specifically, the League of Legends Championship Series (LCS), the North American League of Legends league. Like other franchised, season-based leagues such as the NFL with football, NBA with basketball and the MLB with baseball, the LCS does the same with League of Legends. Although a smaller number of teams, they still run a full-length season, play their opponents multiple times within that said season, and culminate their regular season play with playoffs. Commentators are there to give the play-by-play on what's going on, or if a color commentator, point out small details. And if details are missed, the analyst desk covers them in the post-game. This type of quality, this type of play also garners teams' fans with reasons to root and cheer for them. 
These are all some of the similarities between sports and esports, Head of Esports for North America and Oceania at Riot Games, and Interim Commissioner of the LCS, Chris Greeley explains. 
2018 NA LCS (now LCS) Spring Split Finals in Miami, Florida at The Fillmore Miami Beach at the Jackie Gleason Theater / Photo by Riot Games
"The LCS has a regular season and playoffs, runs on the weekends with games called live by play-by-play and color commentators, crowns a league champion, and does it all inside a broadcast run by veterans of many different traditional sports leagues. Watching competition brings certain expectations for fans no matter what sport you are watching. You want to know the story of the competitors when you watch, and we provide that through our analyst desk," Greeley explained. "During the game you want someone walking you through the action or a former player who can tell some stories or provide some inside information on what a player must be thinking or going through. We do that with our play-by-play and color casters and our watch party program. At the end of the game, you want to hear from the competitors, which we deliver through our sideline interviews. And during the week you want to grab some content recapping the week and telling the stories you might have missed or setting you up for next week. We do that too.
This league also has its own head commissioner, just like how Adam Silver runs the NBA, and Roger Gooddell runs the NFL, Greeley runs the LCS. 
"As Interim commissioner of the LCS, I oversee all of the day-to-day operations of the league. Sometimes that means sitting with our competitive operations folks to talk about roster issues, investigations, schedules, and formats. Other times I am with our partnerships team talking about new activations or new partners who want to come on board, or are talking to the partners themselves," Greeley said. "I spend a good amount of time talking to pro team owners and staff around feedback and future planning. A lot of days are spent in meetings with individuals from our internal teams to talk about what they're working on and how I can help, as well as discussion on their development and personal goals. Budgets, forecasts and business planning are also a constant in my life. I try to spend as much time as I can in public forums with fans as part of the general conversation around the league as well. "
Once past playoffs, League of Legends as a sport begins to carve its own path. After a champion in North America or any league for that matter, gets crowned they get to represent their respective region alongside two other teams in the biggest international tournament of the year— the League of Legends World Championships. Think of it as if a league, such as the NBA, sent out the Lakers— and two other teams— last year to match up against the Euroleague's winners of last year, CSKA Moscow, at a tournament where teams from other famous basketball leagues also participate. This is just scratching the surface of what esports has become, in particular, League of Legends, which has been considered the top esport for several years now thanks to its developer, Riot Games' constant support.
Esports can be far more than people expect. League of Legends and the LCS prove that. "We have plenty of brand partners that support the league, and regularly host our playoff finals in big arenas in front of thousands of fans, which operationally draws a lot of inspiration from traditional sports," said Greeley. "In fact, fans who attend the LCS Championship at Prudential Center next month will be treated to a major sporting event, with all the bells and whistles that implies. Internally, although much smaller than the front office at the NBA or the NFL, we mimic a lot of the functions you would find in those organizations"
Overwatch League Grand Finals 2019 / Hunter Martin/Getty Images
League of Legends isn't the only esport though, far from it. It's just one of the few franchised leagues currently in the esports ecosystem. Other games that can rival the model are games like Overwatch with the Overwatch League and Call of Duty with the Call of Duty League. The Overwatch League was the first to bring the franchised model, with the intent to have the teams play in their respective cities, into space and other games like League of Legends followed suit. And esports in some ways is more than just a competition, more than just a franchised league or a winner and a loser, it's a form of media. 
Back in its infancy, it was a hobby and now it's its own fully-fledged out entity. Something that, CEO of Juked and one of the former founders of the popular streaming website, Twitch, Ben Goldhaber recalls when talking about it.
"Back before 2010 or so, esports was just a hobby, it was just a niche. There were still millions of people that were passionate fans of competitive gaming but esports as a form of media didn't exist, at least not in the Western world. Obviously, in Korea [it's] a different story: you had TV stations and sponsors and all of that," Goldhaber said."I think the most amazing thing about the esports wave that really took over in 2010 roughly is that it was just this incredible combination of a bunch of different things all happening at the exact same time. Specifically StarCraft 2 Beta, League of Legends Beta, Street Fighter IV also came out at that time and one year later Dota 2 and two years later CS:GO."
Games like Goldhaber's aforementioned League of Legends, Dota 2 and CS:GO all continue to be huge parts of the ecosystem as a whole. League of Legends is the biggest esport in the world, Dota 2 has had record-breaking prize pools that reach well over 30 million USD and CS:GO has been on national T.V. multiple times. They also coincidentally launched around the same time Twitch launched. The website has been a huge part of esports' growth, a world wherein sports you are required to pay to watch either by channels such as the NFL Redzone or plain cable television, Twitch has made it so people can watch esports for free. It was "a perfect storm" as Goldhaber put it. YouTube later followed suit with exclusivity deals signed to Activision and Blizzard Entertainment owned games, migrating the Overwatch League and Call of Duty as well as other games to the platform, away from Twitch.
And all of these are just the franchised leagues, there are smaller esports such as the ones in the FGC, smaller scenes like World of Warcraft's arena and— recently rising— PvE scene in the form of World First races all contribute their share. 
Esports is vast, and it's intricate, and it's here to stay.