FIFA
Anderson Talisca FIFA 22: How to Complete the Ones to Watch SBC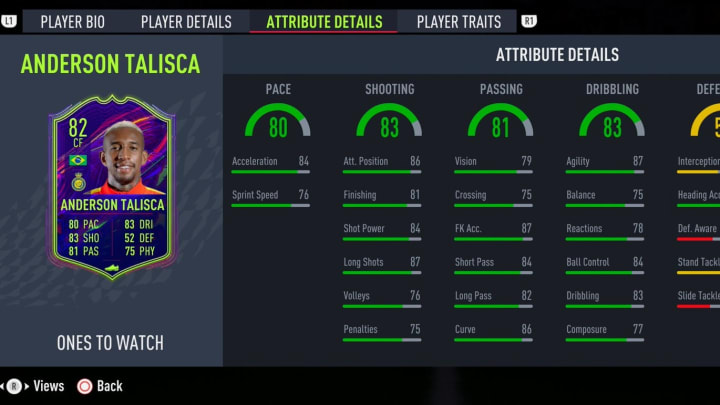 Photo by EA Sports
Anderson Talisca FIFA 22 Ones to Watch SBC went live during the Team 1 promotion on Oct. 2 giving fans a chance to complete one segment for this live item.
Ones to Watch, the first promotion of FIFA Ultimate Team cycles, celebrates players who moved clubs in the most recent summer transfer window. It's a great way to kick off the season by giving players special live items that upgrade throughout the whole year. This year, these items also receive a +1 boost one time if the player's club wins five of their next 10 domestic league matches. A nice addition and something similar to promotions like Headliners and What If from last year.
Anderson Talisca FIFA 22: How to Complete the Ones to Watch SBC
Here's how to complete the OTW Talisca SBC in FIFA 22:
One Segment
# of Players from Brazil: Min. 1
Squad Rating: 84
Team Chemistry: 50
# of Players in the Squad: 11
According to FUTBIN, the SBC is coming in around 14,000 coins to complete from scratch. Talisca has been a fan-favorite in past FIFAs despite the difficulty of getting him on full chemistry. Yes, he is Brazilian and there are Icons to use, but there aren't many high-end players from the MBS Pro League until Team of the Season.
He could be a valuable asset off the bench considering his stats if he gets an upgrade.
Ones to Watch Talisca expires Oct. 8 at 1 p.m. ET.