Andriy Yarmolenko FIFA 22: How to Complete the FUT Showdown Objective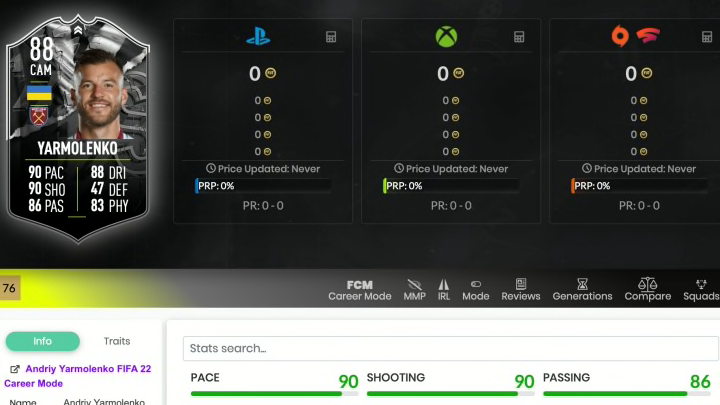 Andriy Yarmolenko FIFA 22 / Photo Courtesy of FUTBIN
Andriy Yarmolenko has received a special FUT Showdown objective in FIFA 22, ahead of his team's match against Lyon on Apr. 7 in the Europa League Quarter Finals. 
EA Sports releases Showdown objectives and SBCs periodically during an Ultimate Team cycle where two players are highlighted from a premier matchup in world football. Each player, one representative from each team, receives an initial upgrade with the ability to upgrade even further. The player from the winning team receives a +2 boost, while the loser stays the same. If the two teams draw, both players receive a +1 overall boost. 
Thiago Mendes represents Lyon while Yarmolenko represents West Ham United.
Andriy Yarmolenko FIFA 22: How to Complete the FUT Showdown Objective
Yarmolenko's Showdown card is available in FIFA 22 Ultimate Team by completing a set of objectives in the Live FUT Friendly: Premier League
Assist three goals with through balls
Score two outside-the-box goals
Win four matches
Score using a player with minimum 4-star weak foot in eight separate matches
In the Premier League mode, you are required to have exactly 18 players from the Premier League in your starting 11 and bench, with a maximum of one loan player and minimum of five first-owned players. 
Yarmolenko looks like a very well-rounded striker or center forward in FUT 22, and he is actually very linkable, with EA giving plenty of West Ham special cards this year. This includes strong links with FUT Birthday Declan Rice, RTTF Jarrod Bowen, Fantasy FUT Michail Antonio, and FUT Birthday Ryan Fredericks. With the upgrade potential and an easy grind behind him, it's hard to say the Ukrainian forward isn't worth completing.
Both Yarmolenko and Mendes' FUT Showdown Objective cards expire on April 6.