Animal Crossing Art Dealer: Everything You Need to Know About Redd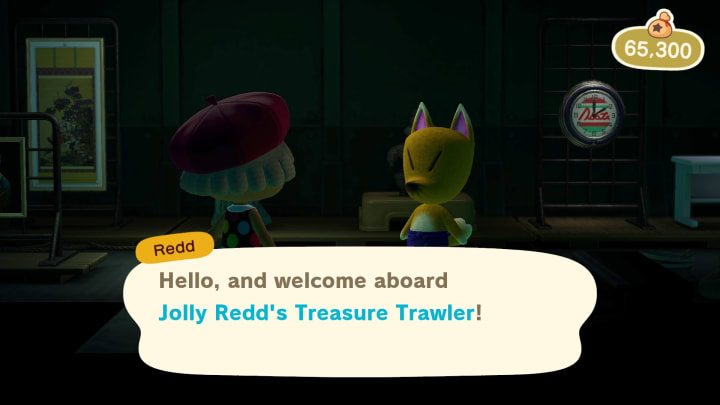 Animal Crossing Art Dealer is none other than Crazy Redd. / Photo by Nintendo
Animal Crossing Art Dealer is none other than Crazy Redd. In New Horizons, he's known as Jolly Redd and operates his black market wares on his Treasure Trawler. Here's everything you need to know about Redd.
Animal Crossing Art Dealer: Everything You Need to Know About Redd
Redd is an untrustworthy and sketchy fox that travels the land (and now seas) to sell his illicitly obtained goods. He will often vastly overcharge you, claiming that his prices are crazy cheap. He's lying, of course.
In previous games, Redd would set up a shady tent in your town to peddle furniture or artwork of questionable authenticity. In New Horizons, Redd will have his shop on his barge docked to your island's secret beach.
The first day Redd appears, he'll be on foot on the island itself. He'll offer you a painting, which you can buy to begin the Gallery upgrade for the Museum. From then on, he'll appear only on his Treasure Trawler and have more art for sale. You'll know which days he'll appear when Isabelle notifies you that a shady character is around.
After the Museum is upgraded, you can find Redd again on the island. He'll tell you about his boat, and then return to it. You can now enter the Treasure Trawler to find furniture and artwork at crazy prices.
The artworks include paintings and sculptures, and can be donated to your Museum's gallery. Redd is the only source for these pieces, and the catch is that you'll have to spot counterfeits. Luckily, they're all based on real world pieces so you can cross-reference them with images of the real thing.