Animal Crossing: New Horizons Eggs: Where to Find All the Eggs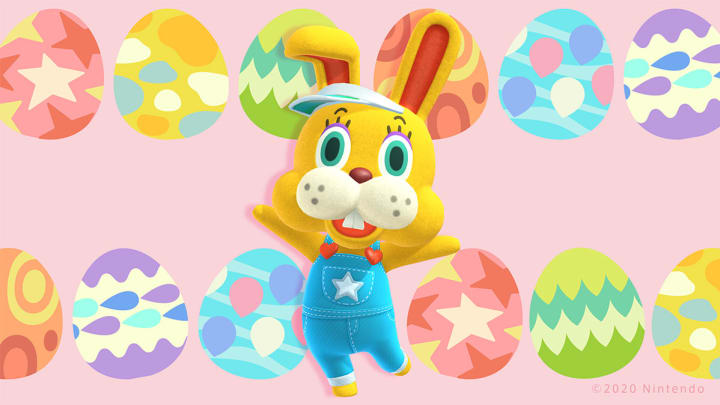 Animal Crossing: New Horizons Eggs are a new, limited-time resource. / Courtesy of Nintendo
Animal Crossing: New Horizons eggs can be found during the game's special Bunny Day celebration, which happens only once each year. Bunny Day is the first in-game event for New Horizons, and the symbols of its celebration can be used to craft unique items. Here's where to find all the eggs.
Animal Crossing: New Horizons Eggs: Where to Find All the Eggs
In total there are six types of eggs to find in Animal Crossing: New Horizons, each corresponding with a different element of nature.
Earth Eggs
Leaf Eggs
Sky Eggs
Stone Eggs
Water Eggs
Wood Eggs
Collecting these will allow you to craft Bunny Day recipes you can unlock from presents, conversations with villagers or by inventing one.
Where to Find Earth Eggs
Earth Eggs will appear periodically in the spots marked on your island for digging. Rather than uncover a fossil, you'll pull out an Earth Egg.
Where to Find Leaf Eggs
Leaf Eggs are easy to spot, as they'll be seen growing on hardwood trees. They can be planted to produce more in the future, but they don't regrow over the course of the day, so low supplies may necessitate trips to other islands.
Where to Find Sky Eggs
Sky Eggs can only be collected from the presents that float over your island. The balloons carrying Sky Eggs will sport a striped pattern instead of the usual solid color.
Where to Find Stone Eggs
Hitting a rock the same way one would normally to collect stone, clay, iron or gold now has the chance to spawn Stone Eggs. These can be found on other islands as well.
Where to Find Water Eggs
Medium-sized fish shadows in any body of water can turn out to be Water Eggs, making them the most plentiful eggs.
Where to Find Wood Eggs
Wood Eggs can be harvested from trees with an axe, as one would harvest wood. They can be found in any kind of tree.