FIFA
Ansu Fati FIFA 22 Challenges: How to Complete the LaLiga TOTS Moments Objective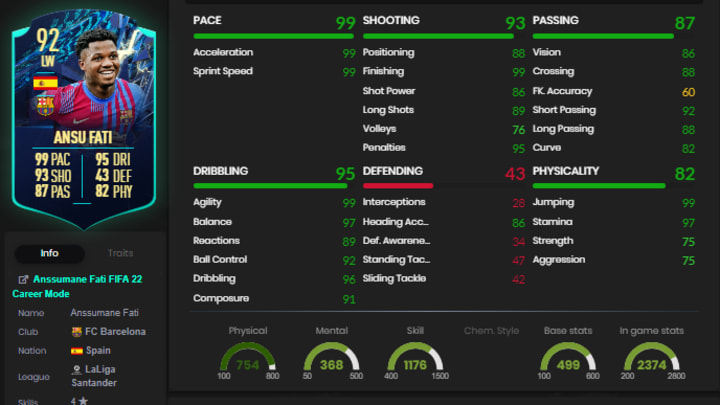 Photo by FUTBIN
Ansu Fati FIFA 22 challenges went live May 20 alongside the release of LaLiga Team of the Season. Fati received a TOTS Moments card as an objective and it's arguably the best card released as an objective this promotion.
Fati is one of Barcelona's brightest young stars and this card is an absolute monster. It is a big upgrade over his previously released UEL Live card that stopped upgrading after Barcelona was eliminated from the Europa League. This card is completed through a Live FUT Friendly.
Ansu Fati FIFA 22 Challenges: How to Complete the LaLiga TOTS Moments Objective
Here's how to complete TOTS Moments Ansu Fati in FIFA 22:
Fati's Flicks: Score five goals using LaLiga players with min. four-star skill moves in the Live FUT Friendly: LaLiga Links
Through Class: Assist five goals with through balls in the Live FUT Friendly: LaLiga Links
Winning Feeling: Win four matches in the Live FUT Friendly: LaLiga Links
Wide Man: Score in 10 separate matches using midfielders in the Live FUT Friendly: LaLiga Links
Each objective once completed will also net players experience and packs.
Completing this objective item shouldn't take too long considering most players abide by an unwritten Golden Goal rule in these playlists. The only objective that will require numerous games is Wide Man.