Anthony Elanga FIFA 22: How to Complete the Silver Stars SBC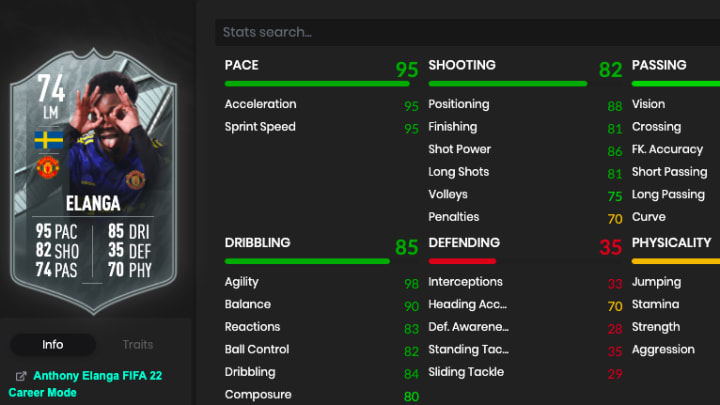 Anthony Elanga's new Silver Stars SBC. / Photo courtesy of FUTBIN
Anthony Elanga's new FIFA 22 Silver Stars card takes the left midfielder's pace to incredible heights, giving him a huge advantage over many of the other available silver cards at this position — or any other position, for that matter. Here's how you can unlock the card for yourself by completing Squad Building Challenges.
Anthony Elanga FIFA 22: How to Complete the Flashback Silver Stars SBC
Despite being released amidst a wave of Flashback Silver Stars cards, Anthony Elanga's new card is just a standard Silver Star card. It emphasizes his pace — an essential attribute in a midfielder like Elanga — and his dribbling, making him a valuable part of the right squad. He can perform well at left midfield, but also does well as a forward, or even a winger. Here are the headlining stats for the card:
Overall: 95
Shooting: 82
Passing: 74
Dribbling: 85
Defense: 35
Physicality: 70
To unlock Elanga's new card, you'll need to build a squad that hits the following criteria:
Number of players from Premier League: Min 1
Squad Rating: Min. 83
Team Chemistry: Min. 80
Number of players in the Squad: 11
Players have until March 5 to unlock the card before it expires.