Apex Legends
Apex Legends ALGS Year 2 Announced: New Format and Schedule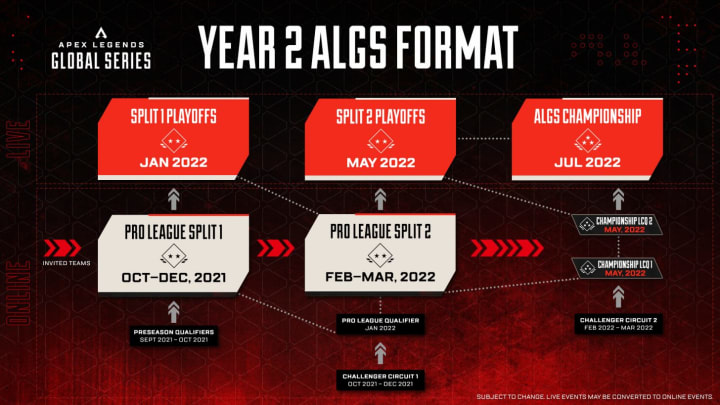 Respawn Entertainment has announced Year 2 of the ALGS, featuring Pro League and Challenger Circuit competition with a $5,000,000 USD prize pool. / Photo courtesy of Respawn Entertainment
Respawn Entertainment announced Year 2 of the Apex Legends Global Series (ALGS), the second season of the game developer's esports events for the game.
From its kickoff date to details about its new format, Respawn Entertainment Game Director Chad Grenier joined WWE star Xavier Woods on the EA Play Live 2021 show discuss most of the major details regarding Year 2 ALGS on Thursday.
On the heels of the conclusion of Year 1 ALGS, Respawn Entertainment is getting ready to provide its platform showcasing the game's best strategies and plays to more competitors than ever before.
Year 2 ALGS competition will kick off in Sept. 2021 with a new, regional Pro League format that expands eligibility to 16 more countries/territories, as well as invites PlayStation and Xbox players to compete for the first time.
To maintain competitive integrity, all controller players will be competing using PC-value aim assist settings, regardless of their platform.
The new competitive ecosystem will be comprised of separate levels of competition for both professional and amateur Apex Legends players with the introduction of Respawn's ALGS Pro League and Challenger Circuit in North America, EMEA, APAC South, APAC North and South America.
Year 2 ALGS Schedule / Photo courtesy of Respawn Entertainment
Year 2 of the ALGS will have a $5,000,000 total prize pool up for grabs, with Respawn planning to return competition to live, in-person events with three LANs in which they'll crown global champions—if health conditions allow.
Registration for the Year 2 ALGS Preseason Qualifiers will open on Wednesday, Aug. 18, 2021. More details are coming soon.