Apex Legends Holo-Day Event Start Date and Skins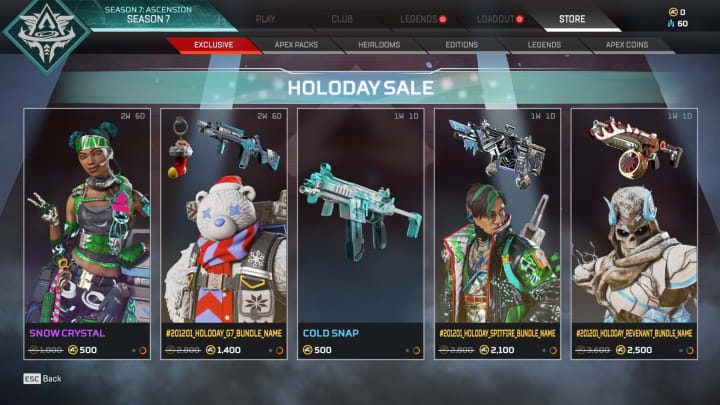 The Apex Legends Holo-Day Bash event start date is right around the corner with December fast approaching. The event brings new skins, badges, and other cosmetic updates to the game.
Respawn Entertainment hasn't officially confirmed anything yet, but data miners have been hard at work seeking out the details of the event. Shrugtal first leaked the event on Nov. 5 followed by Biast12 leaking actual images of the new legend skins, weapon skins, and badges on Nov. 16.
Apex Legends Holo-Day Event Start Date and Skins
Though Respawn Entertainment is yet to comment on any of the leaks, Shrugtal claims the Holo-Day Bash Event will begin on Dec.1 and go through Jan. 4. He also states that it will not be a collection event where players can earn limited time rewards based on the theme. The event will have the new cosmetics for sale in the shop.
Details on the new skins were leaked by Biast12 and images show holiday themed skins for Gibraltar, Lifeline, Crypto, Revenant, Mirage, and Loba. The skins will be sold in bundles that will include weapon badges and other cosmetics to show off during gameplay.
The Winter Express LTM is making a comeback for the event so be sure to grab your squad and take control of the Winter Express with preset loadouts.
If you're on the hunt for skins, make sure you check out this Horizon skin with the Ascension starter pack.