Apex Legends
Apex Legends Season 10 Pick Rates: Full List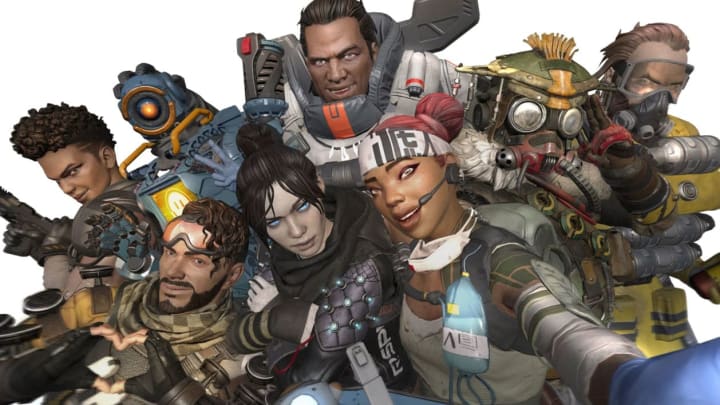 Thanks to a handy online tool, we have the pick rates for all the legends currently active in Respawn Entertainment's Battle Royale this season. / Respawn Entertainment
Thanks to a handy online tool, we have the pick rates for all the legends currently active in Respawn Entertainment's Battle Royale this season.
Season 10: Emergence launched on Aug. 3, 2021 with the premiere of a brand new legend, Obi "Seer" Edolasim. Like most new releases, the Apex Legends team allowed Seer's abilities to speak for themselves before issuing a small patch of tweaks to bring him more in line with others on the roster. This has, unsurprisingly, impacted the pick rates of other legends—which we now have reliable data to reflect.
Here are the pick rates for the entire roster of Season 10 so far, according to ApexLegendsStatus.
Apex Legends Pick Rates for Season 10
In order of popularity, here is the full list in Apex Legends and their corresponding pick rates:
Octane—16.8%
Wraith—11.5%
Bloodhound—10%
Pathfinder—8.8%
Lifeline—6.9%
Seer—5.6%
Bangalore—5.3%
Valkyrie—5%
Horizon—4.6%
Loba—4.2%
Caustic—3.9%
Fuse—3.5%
Mirage—3.2%
Revenant—3%
Gibraltar—3%
Wattson—1.6%
Crypto—1.4%
Rampart—1.3%
Nearly every legend took a popularity hit as Seer rose to fame with a 20.5% rate within a week of his release. Lifeline had the quickest recovery but has yet to reach her pre-season levels—from ~8% to, now, ~7%. Octane is currently on track to reach his pre-season rate of ~17% at the time of writing, officially overtaking Seer on Aug. 15. Other legends have had a slower recovery with a noticeable uptick once Seer's nerf was published on Aug. 18.
Despite their lower pick rate, the legends with the highest win rate—at least in battle royale—are Rampart (41%), Crypto (28%), Gibraltar(20%), Fuse (19%), and Wattson (18%), respectively. Players who pick Wattson tend to be of the higher level while Bloodhound makes up some of the lowest.