Apex Legends
Apex Legends Wintertide Collection Event: What We Know So Far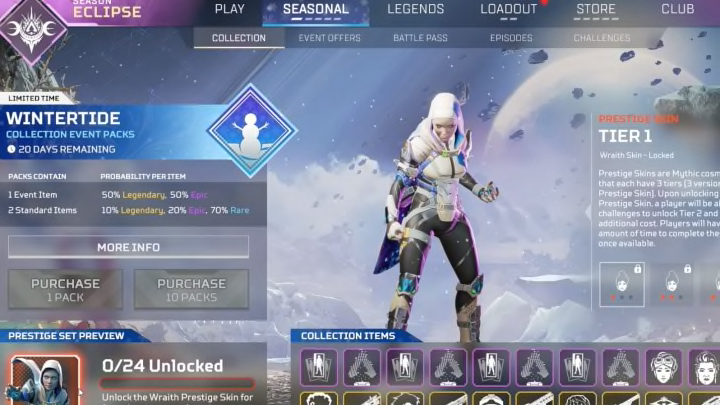 Respawn Entertainment
While not official yet, the Apex Legends Wintertide Collection event could be just around the corner.
Season 15 of Apex Legends kicked off this week. From new cosmetics and rewards to a new map keeping players entertained, the game has rolled out a number of new features. With the winter season fast approaching, even more additions could be on the way.
Apex Legends Wintertide Collection Event: What We Know So Far
The Wintertide Collection event is expected to start on Tuesday, Dec. 6, 2022 at 1 p.m. ET. In the past this event has run for two weeks which would put an end date of Dec. 20 on the table.
While there is not a lot of known information at this time about the event, notable data miners within the community have leaked that the Wraith Mythic skin will be the event's main reward.
Players are anticipating lots of rewards and items to unlock throughout the event, with potential skins for Crypto, Newcastle, Gibraltar, and Bangalore. Though nothing is certain until official confirmation is given by Respawn.
In the run-up to Respawn's Wintertide event announcement, hopefully they take some time to fix some of the issues players have noticed so far in Season 15, like Vantage being in need of a major nerf over bullet size.
With Wintertide not coming until December, players still have a lot of time to get used to Season 15 before the next main Apex event. Now is the perfect time to get your strategies down with your teammates, like figuring out which legends to pair with Catalyst.