Arthur FIFA 20: How to Complete the Player Moments SBC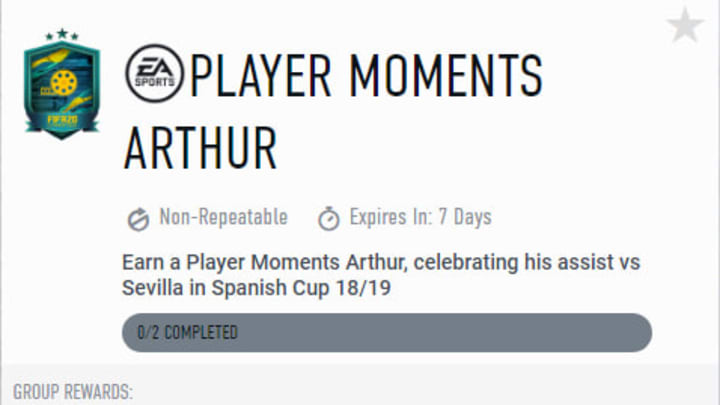 EA Sports released a Player Moments Arthur during FIFA 20 Future Stars /
Arthur FIFA 20 is a new Player Moments Squad Building Challenge released during the Future Stars promotion
FIFA 20 Future Stars is winding down as fans complete SBCs, objectives and try to pack players in the final days. The FIFA Ultimate Team promotion is all about celebrating the up-and-coming talent in international soccer. These players receive boosts to represent their potential in future FIFA Ultimate Team titles.
Arthur, the Brazilian midfielder from Barcelona, featured in the first Future Stars promotion in FIFA 19. He returns as an SBC in FIFA 20 as a Player Moments item.
Arthur FIFA 20: How to Complete the Player Moments SBC
Here's how to complete the Player Moments Arthur:
Segment 1
# of Players from Brazil: Min. 1
In-Form Players: Min. 2
Squad Rating: 84
Team Chemistry: 80
# of Players in the Squad: 11
REWARD: Prime Electrum Players Pack
Segment 2
# of Players from FC Barcelona: Min. 1
In-Form Players: Min. 1
Squad Rating: 85
Team Chemistry: 75
# of Players in the Squad: 11
REWARD: Premium Gold Players Pack
Player Moments Arthur should come in around 190,000 to 200,000 coins to complete from scratch. Many consider this card to not warrant the price as there are better options in the game for cheaper value. Of course, if you want the card, that shouldn't prevent you from completing the SBC.
Arthur is the third Player Moments item released during Future Stars following Alphonso Davies and Dayot Upamecano.
Arthur FIFA 20: When Does the Player Moments SBC Expire?
Player Moments Arthur expires Feb. 20 at 1 p.m. ET.