Top Games
Assassin's Creed Valhalla Title Update 1.3.0: Everything You Need to Know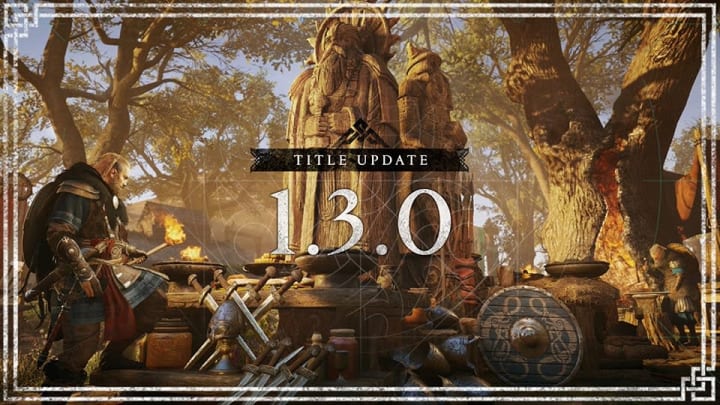 Ubisoft has released the next title update for its most recent Assassin's Creed game, Valhalla—Title Update 1.3.0. / Ubisoft
Ubisoft has released the next title update for its most recent Assassin's Creed game, Valhalla—Title Update 1.3.0.
Grab your axes, raiders, we're going Viking this week. Ubisoft released another title update for Assassin's Creed Valhalla (AC:V) with a new festival, weapon type, skills, level scaling, and more. The team has been hard at work and has quite a lengthy list of game improvements to show for it: including 12 points in the Wrath of the Druids expansion, alone.
Here's everything you need to know about Assassin's Creed Valhalla Title Update 1.3.0.
Assassin's Creed Title Update 1.3.0 Explained
Support has been officially added for the next Valhalla expansion, the Siege of Paris, launching on Aug. 12.
The patch size will vary by platform as follows:
PC: 20.4/31.37 GB (main game/season pass)
Xbox One: 17.72 GB
Xbox Series S|X: 23.79 GB
PlayStation 4: 15.3/24.5 GB (region dependent)
PlayStation 5: 6.85 GB
Sigrblot Festival
A brand new festival is heading to Ravensthorpe! As with all festivities, players will have the chance to earn new cosmetics for Eivor and the settlement, as well as participated in a variety of events themed around the might of the clan. Those who perform well will gain access to a new type of weapon: the long-awaited one-handed sword.
Players must have already reached England and claimed their land—of course—and leveled Ravensthrope to Rank 2, as well as made pacts with either Grantebridgescire or Ledecestrescire.
Skill Tree Update & Additions
Players can now toggle an option that automatically unlocks the perks needed to reach a highlighted skill as points become available. Additionally, the tree has improved visibility to perks added post-launch, alongside even more new perks for each of the three trees.
The Bear tree gains the following perks:
Heidrun Slam—Pressing R2 while sprinting will prompt Eivor to knock back enemies with a knee slam.
Idunn's Heart—Eivor will passively regenerate health following a short delay.
The Raven tree will get the following perks:
Light Fingered—Eivor will now automatically pick up nearby available loot without being prompted.
Thrill of War—Eivor gains adrenaline as long as players remain in conflict.
The Wolf tree gains the following perks:
Survival Instinct—Press the right arrow to trade adrenaline for health when less than a third of hit points remain.
Wolf Warrior—Eivor's damage increases as health decreases.
Level Scaling
Players can enjoy appropriate level scaling for the first time in Valhalla at their leisure. The setting comes with several options to increase or decrease difficulty, such as:
Constant—Enemies will be at least the same power level of the player.

Harder—Enemies will be 20+ power levels above the player.

Nightmarish—Enemies will be 50+ power levels above the player.
Boss encounters and important game modes will not be affected.