Top Games
Assassin's Creed Valhalla Title Update 1.4.0 Patch Notes Revealed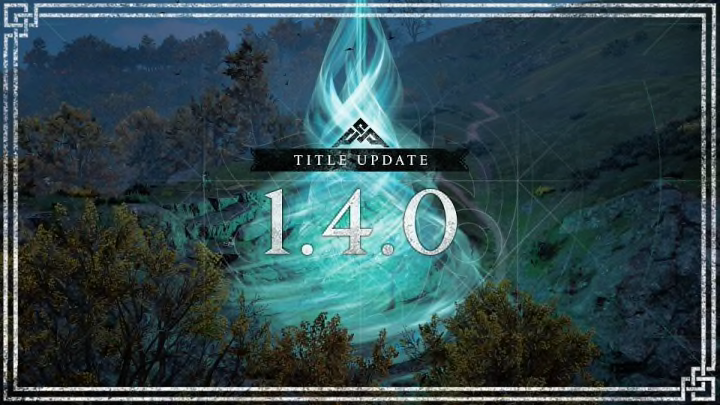 We've compiled a full explanation of everything players need to know about the latest title update coming to Assassin's Creed Valhalla: 1.4.0. / Ubisoft
We've compiled a full explanation of everything players need to know about the latest title update coming to Assassin's Creed Valhalla: 1.4.0.
Title Update 1.4.0 will officially hit the live game on Tuesday, Nov. 9, at the following times:
7 a.m. EDT
4 a.m. PDT
12 p.m. UTC/GMT
1 p.m. CET
11 p.m. AEDT
Its size will vary according to platform:
Xbox Series X|S: 25 GB
Xbox One: 20 GB
PlayStation 5: 6.75 GB
PlayStation 4: 4.55 GB
PC: 20.31 GB
Assassin's Creed Valhalla Title Update 1.4.0 Full Patch Notes
New Content
Once the title update goes live, players who have established their settlement will be able to explore four new Tombs of the Fallen—puzzle-based delves that will reward new lore, mysterious narratives, and "irresistible loot." Those who make their way through may find information having to do with the elusive "Odin's Rune." Two achievements have also been shipped alongside the update.
The groundwork for the Oskoreia Festival will also be laid with this update. The new harvest's-end seasonal event celebrates the start of Odin's Wild Hunt and will run from Nov. 11 to Dec. 2. Like other celebrations, players will be able to participate in a few repeatable events and earn themed rewards for their efforts. The event will only playout for those with a level two Settlement and have the first two narrative arcs (Grantebridgescire or Ledecestrescire) completed.
New Skills for Eivor
The following skills for Eivor will be added with the update:
Perfect Parry: Parry LB/L1/Q in the nick of time to deal additional damage to the attacker.
Master Counter Roll: Adds a Hidden Blade strike while executing a Counter Roll.
Improved Bow Stun Finisher: Initiating the Bow Stun Finisher will now shoot arrows at all stunned enemies in view.
Game Improvements
Alongside the latest improvements to stability and performance, players can expect a various assortment of bug fixes. From lighting and texture to gameplay and quests, Ubisoft has been hard at work resolving several reported issues within AC: V.
The following bugs regarding quests and events have been addressed:
Unable to interact with AxeHead.
Unable to escort convey in quest "Old Friends," marker did not move.
Cavalier/Heavy Cavalry stopped fighting when the player was mounted on a Horse and was further away.
Basim and Sigurd didn't follow the player in Brewing Rebellion.
Quest NPC could be beneath the world in The Thegn of Lincoln.
Cordial Invitation couldn't be started due to a dead NPC.
Orwig Neverdeath didn't spawn in Hordafylke.
Couldn't interact with NPC during Edmund's Arrow world event.
Couldn't defeat boss in Binding Fate due to them spawning underground.
"New Avenge Quest" celebration repeatedly appeared on the screen when looting or interacting with objects near the avenge corpse without picking up the quest.
Unable to pick up Arc of Elan in the longhouse.
"Exploration Area" did not disappear when tracking another quest.
Discovery Tour: Viking Age - Quest objective didn't update in A Barter for Peace.
River Raids - Removed fish to balance ration availability.
Wrath of the Druids - Unable to interact with letter in Flann Sinna's tent during Courting the Kings quest.
Players should find the following gameplay issues resolved:
Battle Cry didn't affect alpha animals during fights.
Missing vibration or haptic feedback on PS5 after version 1.3.2.
Level 2 Axe Fury did not receive intended ability modifiers.
Numerous NPC behavior issues.
Weapon perks not activating correctly or activating outside of their intended conditions.
Numerous clipping issues.
Some 1H swords could cost more to upgrade than others.
Animals didn't go into the stunned stance emptying their defense bar with melee attacks.
Fish could be seen teleporting when fishing under certain conditions.
Helmets could still be displayed during some cutscenes, even when not intended.
Eivor was unable to perform a forward roll when jumping from a height using M&K.
Players can now toggle walk/run state during auto movement.
More information regarding Title Update 1.4.0 can be found on Ubisoft's website.