Top Games
Assassin's Creed Valhalla: 'Wrath of the Druids' Expansion Breakdown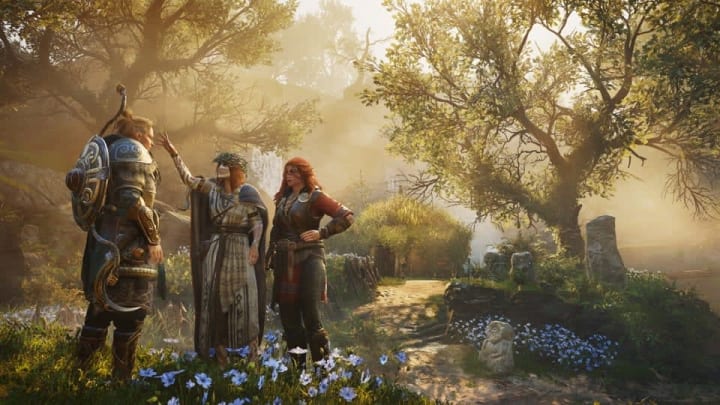 Ubisoft is ready to launch the very first major DLC expansion to its latest installment in its flagship Assassin's Creed franchise. / Ubisoft
Ubisoft is ready to launch the very first major DLC expansion to its latest installment in its flagship Assassin's Creed franchise.
The publisher has been teasing this content since the base game, Assassin's Creed: Valhalla (AC: V) released on Nov. 10, 2020. Titled "Wrath of the Druids," players must once again strap on the boots of Viking hero and potential Raven Clan Jarlskona, Eivor Varensdottir, as she braves the shores of ancient Ireland.
The full expansion is set to drop on Thursday, May 13. Players who previously bought the AC: V Season Pass will automatically be credited the game. Other interested parties will have to purchase it manually.
Assassin's Creed Valhalla: 'Wrath of the Druids' Expansion
This time, Eivor is called to the shores of ancient Ireland to aide the newly-crowned High-King, Flann Sinna—or as others may know him, "Flann of the Shannon." Flann was the son of Land ingen Dúngaile, a renowned Irish queen during the first Viking age. He was crowned in 879 after the death of his first cousin and step-father and would relinquish the crown upon his death in 916.
Fortunately for Eivor, not only is her cousin, Bárid mac Ímair (Barid son of Imar), now king of Dublin, Flann seems perfectly accepting of her and her clan's aid—a stark contrast to his predecessor. Flann seeks Eivor's initial help with his coronation and further when uniting the various kingdoms of Ireland underneath his single banner.
This will likely prove to be a difficult task knowing Flann's reign. In his three decades as High-King, he fought innumerable battles among the warring regions of Ireland and often had his authority challenged by those who though low of him. At one point, even his own sons revolting against him.
It sounds like Eivor's point of contact will be Dublin, itself, under the control of her cousin. Its her job to secure trade with the neighboring groups and help the new High-King when he calls. With duties tying her to the country for some time, it makes sense that she'll have some new monasteries to raid, weapons to learn, and abilities to unlock.
Players should beware when traversing Ireland, however. Not only are several legendary creatures stalking the wilds, an arcane druidic cult is operating in the unseen shadows all around.
More information can be found on Ubisoft's news blog.