Astral Chain Composer Satoshi Igarashi and the Music Design for Astral Chain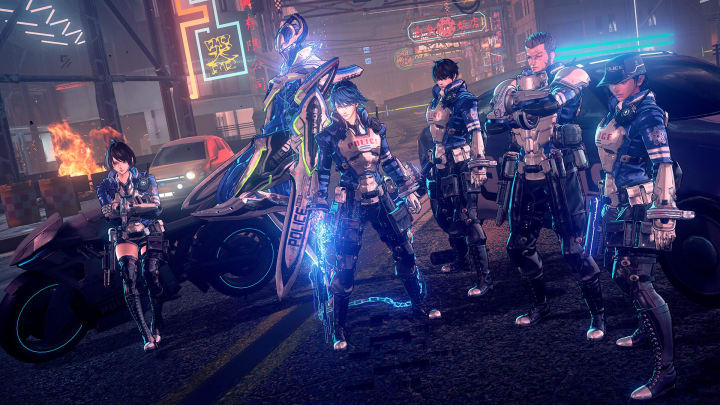 Astral Chain Composer Satoshi Igarashi developed the score to fit perfectly in the game, not only in mood, but also conceptually.
Music has always been important to Platinum games as much as the gameplay and story are. Much of Platinum's catalog feature stellar soundtracks, from the heart pumping power metal score for Metal Gear Rising to the chilling atmospheric world building pieces for Nier: Automata. The composition of the pieces often reflect concepts and themes from the game and story, and Astral Chain is no different.
Astral Chain Composer: Satoshi Igarashi
In an article on the official Platinum Blog, Igarashi writes about his process for composing the music in Astral Chain. He uses a chart to demonstrate how the mood of the scene has to have matching music. Igarashi uses three primary genres: Metal, Electro, and Orchestral.
Photo courtesy of Platinum Games /
Igarashi uses orchestral music for dramatic scenes and electro for calm scenes. Tense scenes, such as those in combat, use metal. There are multiple versions of each piece, for example, a calm electro version for an overworld theme and a rock/metal version for combat.
Here is the Ark Mall:
And the Ark Mall Combat Phase:
As you can hear, the instrumentation is almost swapped out completely for roaring guitars and upbeat drums. The core composition is the same, and the combat music still features the vocal choir.
As a concept for the entire score, Igarashi incorporates elements of each genre in each other, especially between phases of the same piece. He explained the process, "The electro pieces have a touch of guitar; the metal and orchestral pieces have synthesizers on display… There's more than a bit of genre-mixing going on."
The blending of instrumentation, he writes, allows the three seemingly disparate styles of music to have cohesion across the game. On top of that, the music was designed to be transitioned seamlessly. Igarashi worked especially on the implementation of the music, making sure the music scales with the gameplay properly. In an extension of the previous chart, Igarashi details where certain scenarios fall in the score.
Photo courtesy of Platinum Games /
The way the music effortlessly shifts between instrumentation and genre parallels the key gameplay concept for Astral Chain. The design concept was to be able to use the Legions in creative ways. The different Legions still all feel like part of the player's abilities despite being totally different mechanics and being able to utilize them in the same ways both in and out of combat is mirrored by the composition philosophy Igarashi takes.
There are chains reflected in the music, just as much as the chain that connects the player to their Legion.
Astral Chain releases Aug. 29 for Nintendo Switch.
Photo courtesy of Platinum Games.