Autoclave Warzone Blueprint: How to Get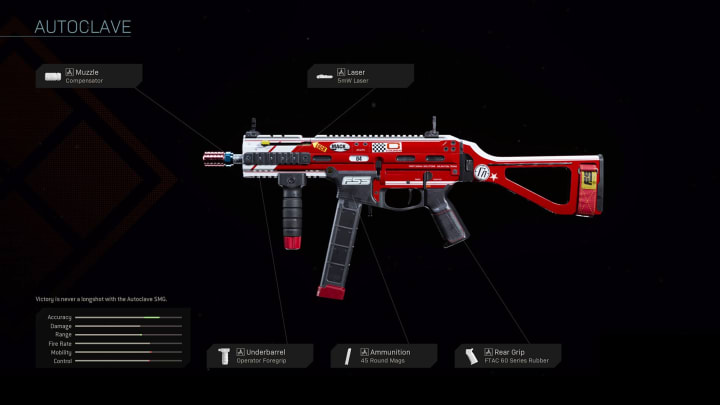 Unlock the Legendary Autoclave Warzone Blueprint / Photo courtesy of Activision
The Autoclave Warzone Blueprint for the Striker 45 is live now. This legendary SMG Blueprint is striking in appearance with its bright candy red and checkered flag finish, giving it a true race car feel. It was introduced in Warzone Season Four and boasts deadly accuracy to go along with its above average range.
The Autoclave Blueprint is pretty average in terms of its fire rate, though 45 round mags allow players plenty in the chamber for all types of situations. This is a can't miss item from the Racing Series: Mach 8 Store Bundle.
Autoclave Warzone Blueprint: How to Get
As of writing, the only way to unlock the Autoclave Warzone Blueprint is by purchasing the entire Racing Series: Mach 8 Store Bundle for 1,800 COD points.
The store bundle comes complete with six exclusive items including:
Striker 45: Autoclave Blueprint
M19: Winner's Circle Blueprint
Pit Stop - Vehicle Skin
Chicane - Vehicle Skin
Start Your Engines - Vehicle Horn
Piston - Charm
The Striker 45 is a niche SMG and doesn't compete at the highest level next to the MP5 or MP7. The Autoclave is a nice blueprint, but look toward the other SMGs.