Banded Dragonfly Animal Crossing: New Horizons: What You Need to Know About the Bug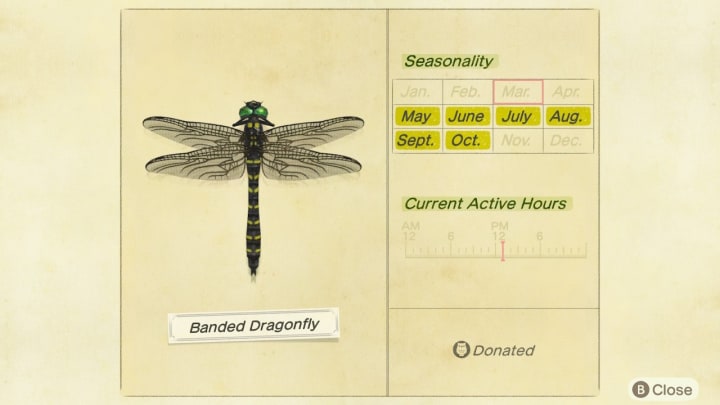 Banded Dragonfly Animal Crossing: New Horizons will give players a run for their money—literally. / Nintendo
Banded dragonfly Animal Crossing: New Horizons is here with the onslaught of bugs now roaming the skies this May.
There are several kinds of dragonflies you can catch just doing your chores on your island. You may have seen its cousin, the Darner dragonfly, lazily orbiting your rivers and shores at the start of April. While catching that specimen was a breeze, catching the Banded dragonfly won't happen so easily. Be ready for the hunt of your life.
Banded Dragonfly Animal Crossing: New Horizons
The Banded dragonfly is a quick flying bug that appears from the start of May through to October. It can only be encountered from 8 am to 5 pm and has no common spawn point. You should be able to run into this bug just about everywhere you go.
It has a "scarce" four-star rating, meaning you likely won't find one right off the bat. Each individual bug sells for 4500 bells to Nook's Cranny or 6750 bells to Flick.
Your best bet at catching a Banded dragonfly is to pursue it. Keep your terrain tools equipped and chase it down as fast as you can. Try not to swing your net until you're sure you're in range—swinging at a bug and missing may make it fly faster or disappear entirely.
The best way to tell the Banded dragonfly apart from its Darner cousin is to examine the tail. This may be difficult, given the speed of the bug, but Banded dragonflies have very noticeable yellow stripes on their tails. Darner dragonflies have solid colored tails.