Battle.net Spring Sale: Call of Duty, Overwatch, Diablo and More up to 67% Off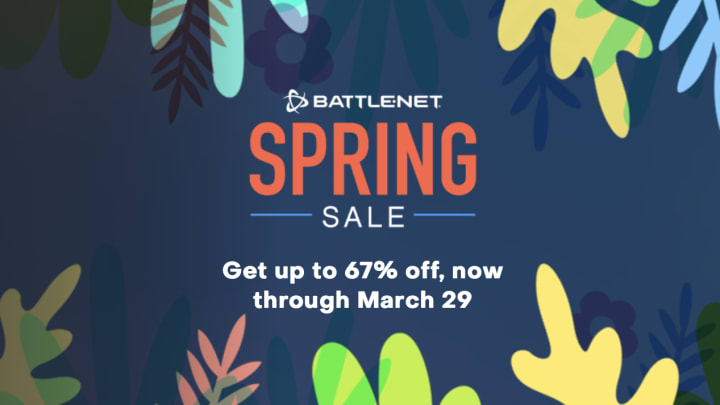 Image courtesy of Activision Blizzard
The new Spring Sale on Blizzard's Battle.net store has slashed the price on some of their most popular franchises.
The start of a new season is the perfect time to pick up some great titles. Sales are often in full force across multiple stores, from PlayStation to Steam and everything in between. Blizzard's Battle.net store is no different, having laid out some great deals from now until March 29, 2022.
Huge discounts have been rolled out for some of Activision Blizzard's more popular titles, such as Call of Duty and Overwatch, making this a great time to jump in and see what all the fuss is about.
Below, we've detailed all the deals you can get your hands on this Spring.
Battle.net Spring Sale: All Game Discounts Detailed
Call of Duty
Call of Duty: Vanguard - was $59.99, now $38.99
Call of Duty: Vanguard Ultimate Edition - was $99.99, now $79.99
Call of Duty: Black Ops Cold War - was $59.99, now $29.99
Call of Duty: Modern Warfare - was $59.99, now $29.99
Call of Duty: Black Ops 4 - was $59.99, now $19.79
Call of Duty: Modern Warfare 2 Campaign Remaster - was $19.99, now $14.99
CoD: Vanguard Timeless Pack - was $9.99, now $6.99
CoD: Black Ops Cold War Battle Doc Pack - was $9.99, now $5.99
CoD: Black Ops Cold War Challenger Pack - was $9.99, now $5.99
Diablo
Diablo II: Resurrected - was $39.99, now $29.99
Diablo II: Resurrected Prime Evil Collection - was $59.99, now $41.99
World of Warcraft
World of Warcraft: The Cat Pack - was $115.00, now $39.99
Overwatch
Overwatch - was $19.99, now $14.99
Overwatch Legendary Edition - was $39.99, now $19.99
StarCraft
StarCraft II: Campaign Collection - was $39.99, now $29.99
StarCraft II: Campaign Collection Digital Deluxe - was $59.99, now $39.99
StarCraft II Nova Covert Ops Bundle - was $9.50, now $6.50
StarCraft Remastered - was $14.99, now $9.99
StarCraft Remastered + Cartooned - was $24.98, now $17.98
StarCraft Cartooned - was $9.99, now $7.99
Blizzard Arcade Collection
The Blizzard Arcade Collection - was $19.99, now $9.99
Crash Bandicoot 4
Crash Bandicoot 4: It's About Time - was $39.99, now $29.99