Battlefield 2042 Developers Look to Address Player Concerns by Adjusting Maps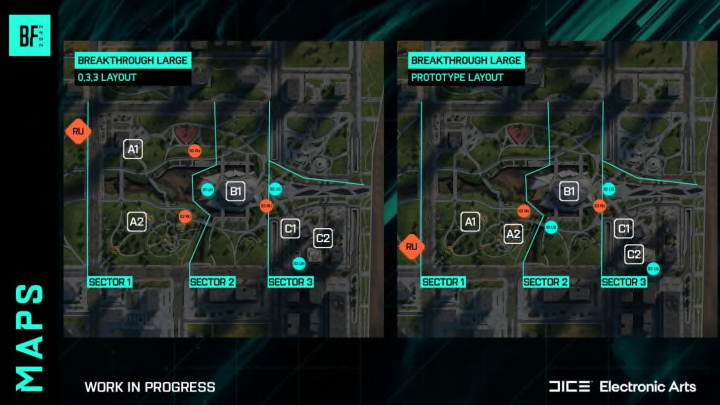 EA DICE game developers took to the official Battlefield 2042 website to publish a post detailing how they plan to implement player feedback. / DICE, Electronic Arts
EA DICE game developers took to the official Battlefield 2042 website to publish a post detailing how they plan to implement player feedback.
In a post published earlier this week, developers dove into the first of what is expected to be many deep dives into adjustments being made to the game. This post dealt with how the maps are to be changed, as well as some incoming tweaks to Battlefield's multiplayer lobbies. Developers highlighted five key areas where they'll be focusing their efforts.
This post comes a month after the studio published a statement reaffirming their commitment to meet fan expectations.
DICE developers posted images of proposed changes to be made to the map. / DICE, Electronic Arts
Battlefield 2042 Developers Look to Address Player Concerns
The five key areas include: Traversal, Intensity, Line of Sight, Paths, and Cover.
Battlefield 2042 developers acknowledged the unnecessary space between important points on the map. They explained that this was initially meant to accommodate a large number of players in each match—around 128 each. Therefore, one of the primary solutions to the problem included cutting the lobbies down to fewer players. Simply moving the points closer together was also discussed.
"We've seen you use terms such as 'Walking Simulator' to describe how this feels in-game. We understand that this isn't a satisfying experience and agree that there's too much overall travel time," the post reads.
They also suggested that cutting lobbies and/or specific modes--like Breakthrough--down from 128 to 64 players may help with the intensity of each match. Vehicle spawn frequency is on the table, as well, as DICE believes having fewer of them would "[ensure] that their presence isn't as overwhelming" and "[give] infantry players a more important role."
The last three points blended together, giving off the impression that DICE may be looking to redo the map, entirely, to add more line of sight breaks, better cover, and clearer paths to and from bases and goals. Developers explained one of their goals was to "reduce the focus on long-range combat."
"We recognise that when you're defending, [unclear pathing] can make it difficult to hold the objective, and when on the attack, we see players exposing themselves on bad lanes in bids to push for a flag," they wrote, "Our intent is to reduce the likelihood of being fired at from a 360 degree angle, and to take away that Hail Mary feeling of running onto no man's land between objectives."
Developers specifically requested player input regarding this issue in the following areas:
Which maps presently provide a poor opening experience because of the location of the Base Spawn?
Which maps are making it harder to get back into the fight in an all-cap scenario?
How do you feel about the current balance between Infantry and Vehicles on [Breakthrough mode]?
Have you played 64 player Breakthrough, and do you feel that this is the better way to experience the mode?
On which maps and Flags do you see the most immediate need for more line of sight blockers?
What are some examples of good and bad pathing on the map? Videos of in-game footage are helpful.
How can paths be made more clear?
Are there any specific areas on the map that you feel lack cover?
Players and fans are encouraged to share their responses to the post on the official Battlefield 2042 forums or the game's Discord, Reddit, and other social media.