Fortnite
Beast Boy Fortnite Cup: Full Event Breakdown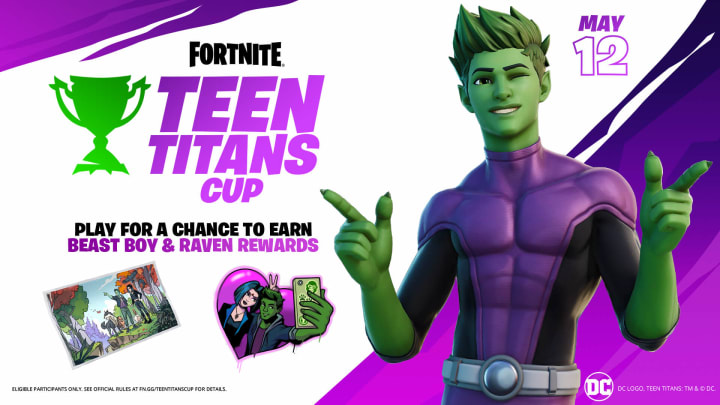 Epic Games is celebrating the released of their new Fortnite Beast Boy skin with a competition. / Epic Games
Epic Games is celebrating the released of their new Fortnite Beast Boy skin with a competition.
Epic sure knows how to build the hype when they debut a new outfit. Much like the other brand new popular cosmetics implemented in-game, the publisher has planned a Beast Boy "Teen Titans Cup" this Wednesday, May 12. A select few players could get the chance to add Beast Boy to their locker ahead of his official launch by participating and placing well in the tournament.
Interested? We've broken down exactly how to get involved and what you'll need to win.
Beast Boy Fortnite Cup: Full Event Breakdown
The Beast Boy Cup will take place on May 12—however, the timing will vary per region. It is a Duos tournament which means, much like Raven and Beast Boy, players will need to team up to become the top dog.
To enter, players need to be at least 18 years old or have consent from their parent or guardian to play. They will need Two-Factor Authentication (2FA) enabled and their account will have to be above level 30.
Each duo will have a chance to compete in a maximum of 10 matches within a span of three hours. Points will be awarded per placement in each match with an extra point per elimination. Victory Royale equates to 42 points, second place to 36, third to 32, and fourth to 30 with each following taking away a single point, respectively.
Players who score among the top percentile per region will win the "Beast Boy" In-Game Cosmetic Outfit and Back Bling. Additionally, all those who score upwards of eight points will receive the "BBRae" Loading Screen and all participants will get the "Beast Boy & Raven" Spray.
More information about the competition can be found on Epic's Fortnite competition tab.