Beefeater Blueprint Warzone: How to Get the FAL Blueprint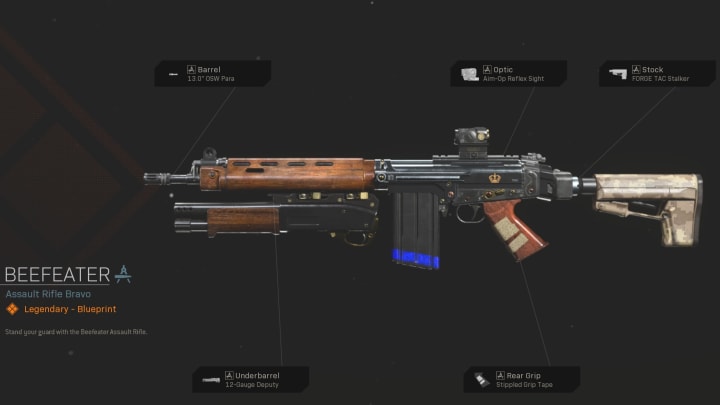 The Beefeater is a custom blueprint for the FAL in Warzone and Modern Warfare. / Photo by Activision/Infinity Ward
Beefeater Blueprint Warzone is a custom loadout for the FAL assault rifle in both Call of Duty: Modern Warfare and Warzone.
Blueprints in the latest Call of Duty iteration, both the purchased and free-to-play versions, give players a weapon with preset attachments. The aim is to make leveling up the specific weapon easier in exchange for COD Points. Warzone players who joined the player base appreciated Blueprints as it's harder to level up weapons in the battle royale compared to traditional multiplayer.
Blueprints are made available in multiple ways. They're found as drops from supply crates during a Warzone game, made available in the battle pass and as microtransactions in the store.
Here's how to get the Beefeater blueprint in Warzone.
Beefeater Blueprint Warzone: How to Get the FAL Blueprint
The Beefeater is available at Tier 56 in the Modern Warfare Season Three battle pass. Players don't need to purchase it to unlock it as it's a free reward. Additionally, players can find the Beefeater in a game of Warzone.
Here are the attachments on the battle pass edition:
Barrel: 13.0" OSW Para
Optic: Aim-Op Reflex Sight
Stock: FORGE TAC Stalker
Underbarrel: 12-Gauge Deputy
Rear Grip: Stippled Grip Tape
The Beefeater is unique as it has a shotgun attachment to make it viable at close range. Most players would opt to have an SMG as a secondary, but it's a fun little touch for the Beefeater.
Check out other popular Warzone blueprints: