Best Clubs PGA Tour 2K21: What to Have in Your Bag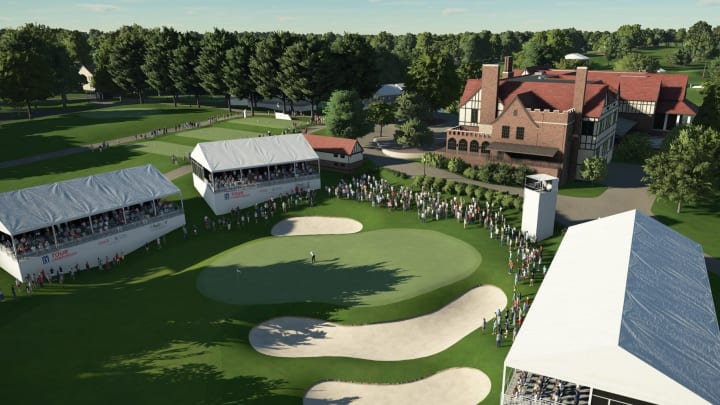 Here's our expert guide to help you chip, drive, and putt with the best / Photo courtesy of 2K Games
Here are the best clubs in PGA Tour 2K21 to help you own the course.
It's a tale as old as time. Golf game not going well? Blame it on the clubs. The new golfing 2K title is no different, so let us help you out with some recommendations to have you hitting more greens and getting up-and down for low rounds.
There's five different aspects to consider when selecting a club:
Distance - how far the ball travels
Shot Shaping - fade/draw on the ball
Forgiveness - swing timing meter
Swing Plane - how straight you can swing
Distance Control - transition point of backswing and downswing
Let's get into some of the top clubs that PGA Tour 2K21has to offer.
Best Clubs PGA Tour 2K21: What to Have in Your Bag
Driver - TaylorMade SIM MAX
This is a very well rounded driver with serious range. It offers some of the most impressive distance in its class. The forgiveness meter is fair for this club so it's fairly controllable. The only stats that don't impress are the shot shaping, but that's less important for most drivers.
3 & 5 Woods - Callaway Mavrik Standard
This club has very impressive forgiveness, especially for a 3 Wood. It carries 223 yards overall which is solid distance.
3 & 5 Hybrids - TaylorMade SIM MAX
Recommended for both 3 and 5 Hybrids, the TaylorMade SIM MAX offers awesome distance and forgiveness with added shot shaping for bonus draw's and fade's. A true luxury club for Hybrid purposes.
5-8 Irons - Bridgestone Golf Tour B JGR HF2
Boasting some of the highest forgiveness stats of all irons, the Bridgestone Golf Tour B JGR HF2s are well rounded in their distance stats and have a very easy going swing plane.
All Wedges - The Golf Club TGC CV Master
For all of your wedges, you're going to want to go the route of the Golf Club TGC CV Master. Luckily for players, these are some of the earliest accessible wedges which offer very user friendly forgiveness, swing plane, and distance control.