Best Fennec Warzone Loadout: Attachments and Meta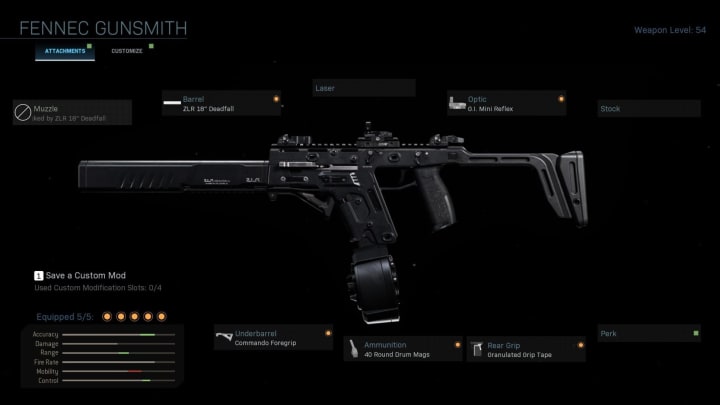 The Fennec is a strictly close quarters combat SMG with an insane fire rate and excels at shredding enemies armor and health in no time. / Photo courtesy of Infinity Ward
Best Fennec Warzone loadout is here to take advantage of the rebranded Kriss Vector's insane ROF and mobility while mitigating recoil and ammo conservation. The weapon dropped alongside Season 4 in June with a fire rate of 1111 RPM, great handling, and surprisingly controllable recoil patterns.
The Fennec is a weapon in Call of Duty: Modern Warfare that excels at close range only, and can decimate an enemies armor in no time at all. Dealing with multiple enemies is also possible, as long as you are watching your aim and shooting responsibly. The weapon burns through armor extremely fast, so be sure to stock up whenever you get the chance.
Best Fennec Warzone Loadout
The best Warzone loadout for the Fennec ignores the hollow point conversion rounds and instead focuses on increasing starting ammo capacity while keeping you off the radar. The SMG has great mobility, so attachments to increase this stat is not needed.
Muzzle: ZLR Sabre Suppressor
Barrel: ZLR 16" Apex
Underbarrel: Merc Foregrip
Ammunition: 40 Round Drum Magazine
Rear Grip: Stippled Grip Tape
The ZLR 16" Apex barrel gives a ridiculous 68% increase to the weapon's damage values and is an excellent choice should you find yourself having to stretch the range of the weapon chasing down an enemy. Consider swapping out the Stippled Grip Tape for Sleight of Hand for a faster reload as you'll be burning through ammo in no time.
The sprint out and ADS time on the Fennec is a great selling point for the weapon, and snapping onto a target is not difficult at all while maintaining your mobility for aggressive playstyles. Combine this weapon with the Overkill perk and have a backup Grau or Kilo 141 for mid-to-long range engagements, as the Fennec is not suited to those ranges at all.