Call of Duty
Best Kar98k Weapon Loadout in Warzone Pacific Season 1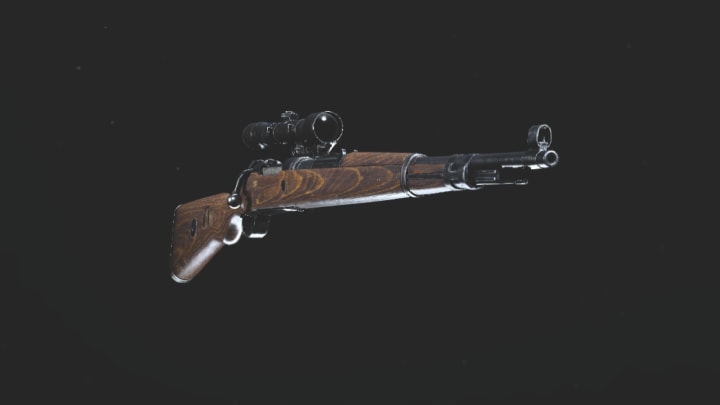 The Vanguard Kar98k's high damage and mobility are its most important attributes. / Image courtesy of Ralston Dacanay, Activision
The best Kar98k weapon loadout in Warzone Pacific Season 1 helps the bolt action sniper rifle compete with the more modern sniper rifles already in Warzone. Not that it needs too much help — its per-bullet damage makes it absolutely deadly in the hands of an accurate marksman. It's also highly mobile, making it a great choice for Warzone, where movement and positioning and essential elements on the game.
Here's how to kit out your Kar98k for maximum efficacy.
Best Kar98k Weapon Loadout in Warzone Pacific Season 1
This build for the Kar98k will bolster its damage range and mobility, leaning into two of the weapon's strengths.
Muzzle: G28 Compensator
Barrel: VDD RED2K
Stock: Short Stock
Underbarrel: Heavy Foregrip
Magazine: 8mm Klauser 3 Round Mag
Ammunition: Lengthened
Rear Grip: Fabric Rear Grip
Perk: Shrouded
Perk 2: Deep Breath
The VDD Red2K barrel and the Lengthened ammunition both buff the Kar98k's bullet velocity, making it even easier to land those one-shot-kill headshots. The barrel also increases that one-shot kill area.
The Short Stock, 8mm Klauser 3 Round Mag and Fabric Rear Grip increase the Kar98k's ADS and sprint-to-fire speed, making its high mobility even more useful. The G28 Compensator and Heavy Foregrip cut down on recoil, allowing for easier follow-up shots to clean up body shots.