Best LMG Modern Warfare: Ranking the Weapon Class From Best to Worst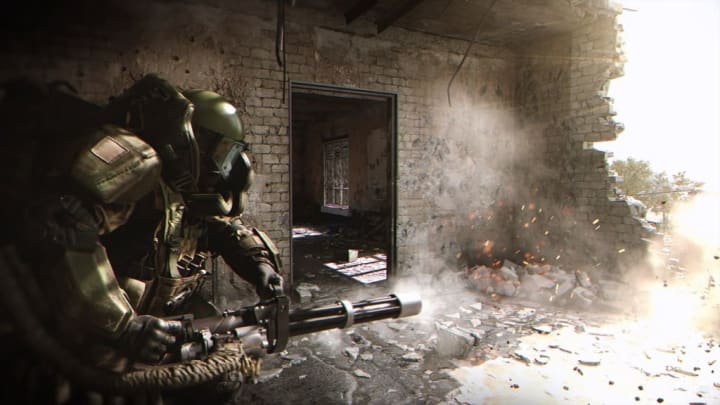 Choosing the best LMG is all based on style. / Image by Infinity Ward/Activision
Choosing the best LMG is all based on style.
LMGS are massive guns in Call of Duty: Modern Warfare, and are capable of shredding enemies when used right. If a player using an LMG can get in the perfect position and not have to run around lugging the large weapon, it becomes very simple for that player to mow down large numbers at once.
In terms of LMGs, here are the best and worst.
Best LMG Modern Warfare: Ranking the Weapon Class From Best to Worst
1. PKM
The PKM hits near the top in almost every category as it packs a ridiculous punch to go along with a fast fire rate and huge clip size. The gun also has great accuracy and range, so it makes for the deadliest LMG when whoever is wielding it is positioned in a vantage point. It's mobility for an LMG is nothing to laugh at either.
2. M91
Finding a spot to stay still and shred enemies is a must for the M91, as it has very low mobility but a high rate of fire, large clip size and significant damage for the power it packs. Just don't use the gun in close quarters.
3. HOLGER-26
The HOLGER-26 has some of the best mobility in the SMG class and has a high fire rate and solid recoil, making it the easiest to manage SMG in the game. At its base form the HOLGER-26 is in the middle of the pack for SMGs, but with attachments, it can arguably be at the top.
4. MG34
The MG34 is tops in most stats but has low damage and mobility, where the best SMGs have one or the other. This makes the MG34 one of the worst SMGs in the game.
5. SA87
While the SA87 is easier to control than other SMGs, it is near the bottom in terms of damage, reload speed and fire rate. This weapon will lose in a shootout almost every time.